Docs Index
Doc
Getting Started With CoderPad for Candidates
Last updated on
This document is for candidates who are going to be interviewed on CoderPad. If you are an interviewer, please check out our getting started guide for interviewers.
A pad is like common development software that programmers use, or an IDE. You write code in the left-hand pane, run code with the 'Run' button, and view output in the right-hand pane.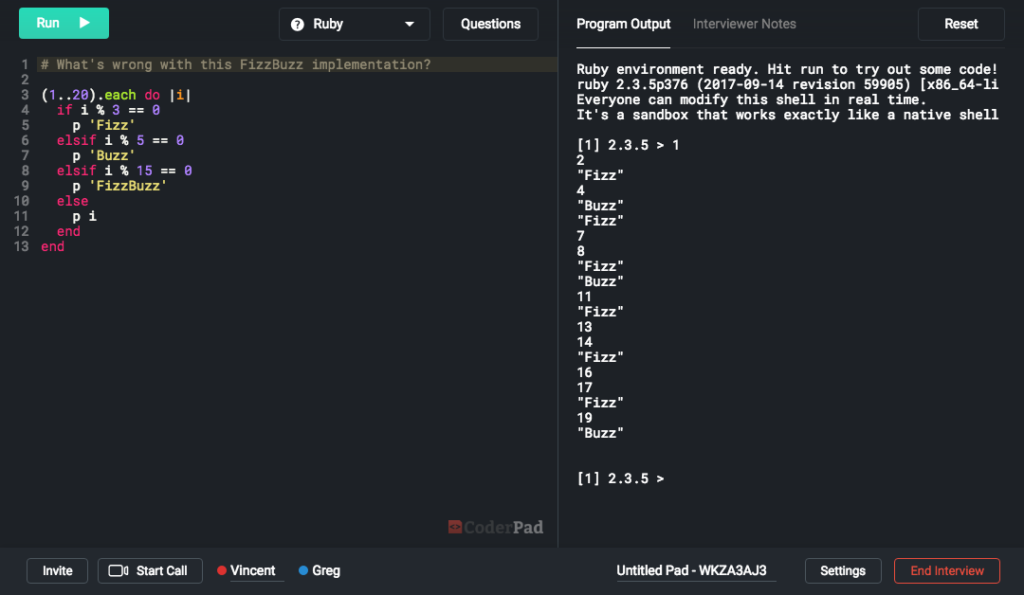 The right pane also includes an interactive REPL for some languages.
The Reset button clears the output in the right pane, while the code you've written in the left pane remains intact.
CoderPad also supports video calls. Select your webcam and audio inputs before the call starts.
Assessment types
CoderPad supports two types of assessments, live interviews and take-home projects.
Live interviews
You will receive a CoderPad link prior to your interview. At the scheduled time, open the link, input your name, and join the interview.
Take-home projects
You will receive a CoderPad link to the project. Click on the link to see detailed instructions about the task, including the amount of time you have to complete it.
The project starts once you enter the CoderPad environment. You can start coding immediately. The amount of time you have left appears in the bottom left-hand corner.
When you are ready, submit your code by clicking the 'Submit Challenge' button. If you don't complete the challenge within the allotted time, your code will be submitted when the time runs out.
Customizing editor settings
Click the Settings button in the lower-right corner to customize settings, such as code autocompletion for supported languages, bracket auto-closure, unique tab size, larger font size, lighter color theme, and to change your keybindings from normal to Vim or Emacs.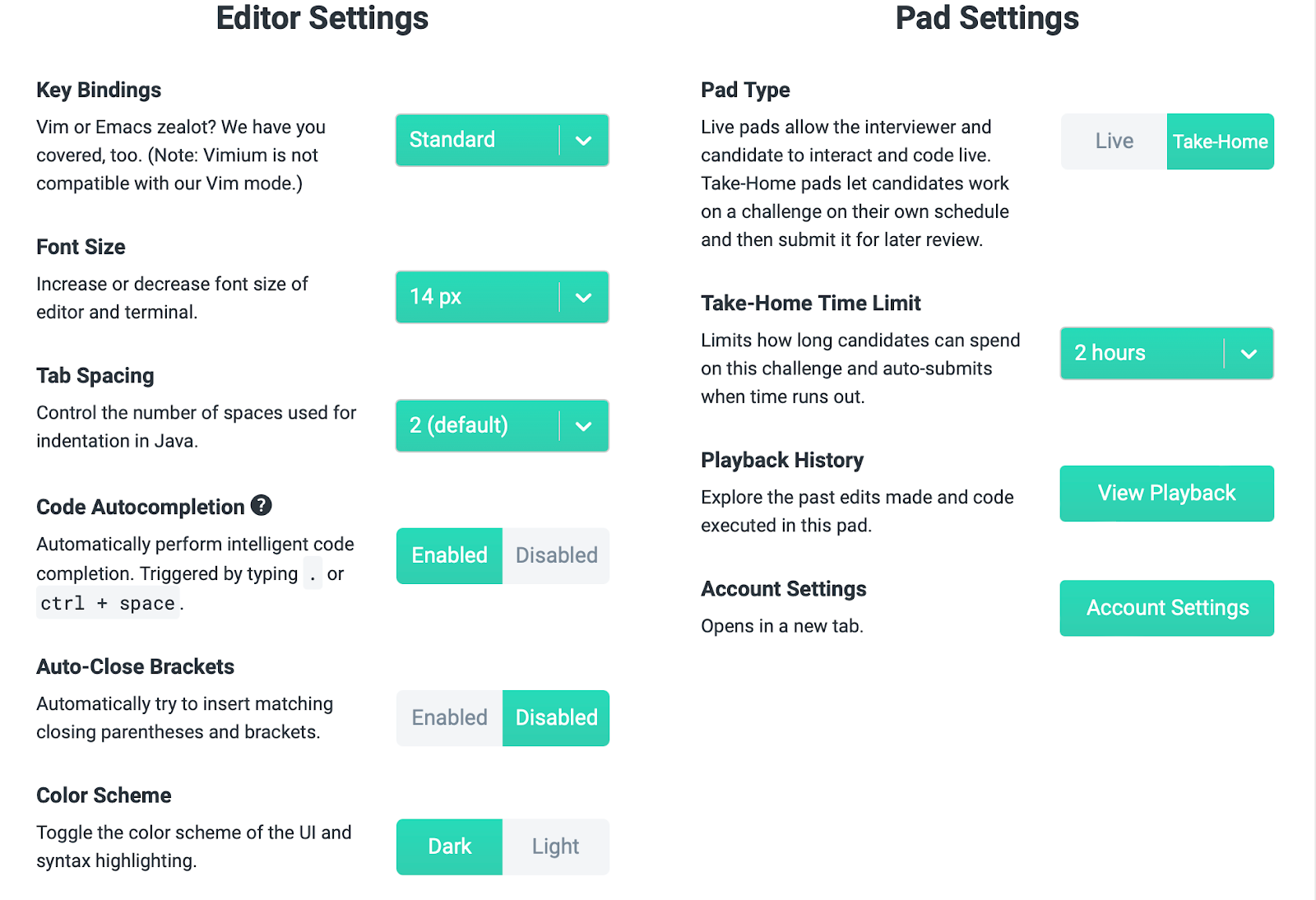 Most settings are disabled by default.
Changing your settings does not affect your interviewer's settings.
Programming languages and testing
We support most programming languages, many with autocomplete functions. We also have unit testing suites and other packages and libraries. See our languages page for more details.
To access language information during your interview, click the Info button next to the language name at the top of your pad.
Try it out ahead of time!
Each company creates their own interview questions, so there are no practice questions on our site.
We do encourage you to try out the sandbox environment which gives you a CoderPad session that is nearly identical to a real CoderPad interview – minus the multi-user functions and the ability to save the session.
Final tips
CoderPad is here to make your life easier. If you get stuck in the interview, don't worry, just run the code and use the output for debugging.
If you have any questions or concerns about how things work in CoderPad, feel free to email us at support@coderpad.io – we're happy to help!