Assess. Don't guess.
Screen reveals technical skills so you can shortlist with confidence
Create and send engaging coding assessments in just a few clicks. Gain time and clarity. Reporting and ranking make it clear which candidates have the right skills to move to technical interview.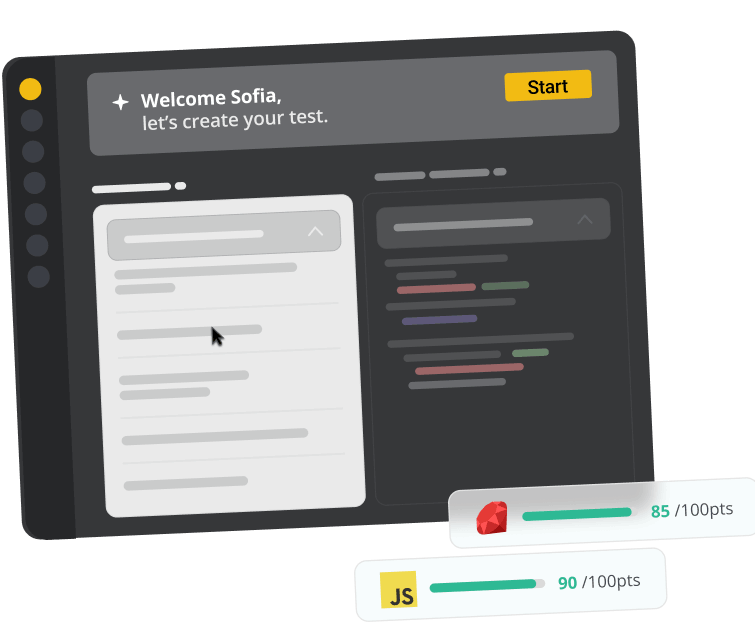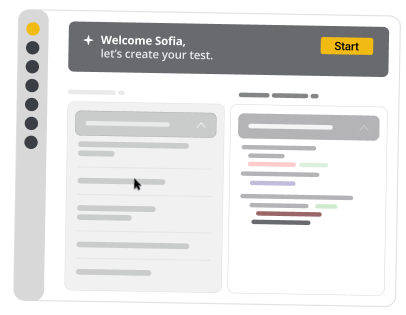 Create your test in 60 seconds.
Even if you're not technical.
Generate well-balanced tests across multiple roles and technologies. Simply enter your criteria and voilà!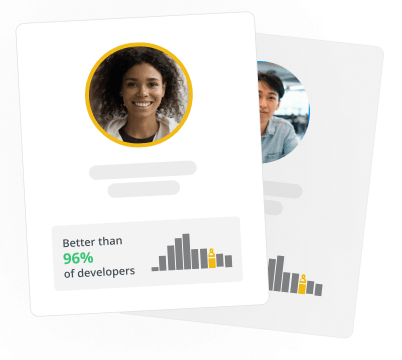 Spot the strongest candidates at a glance
Shortlist candidates in minutes with automated scoring and easy-to-read reports. Feel confident about the candidates you choose to move forward.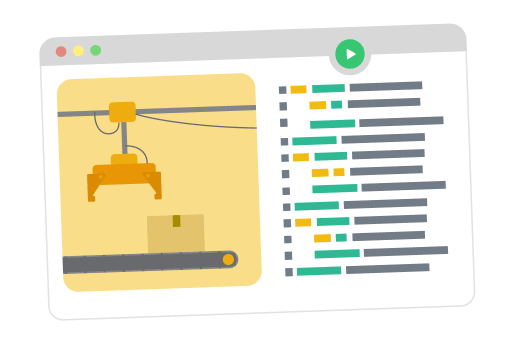 Eliminate drop-off with relevant tests that aren't boring
Send coding tests that developers actually complete. 96% of candidates that start a Screen assessment finish it.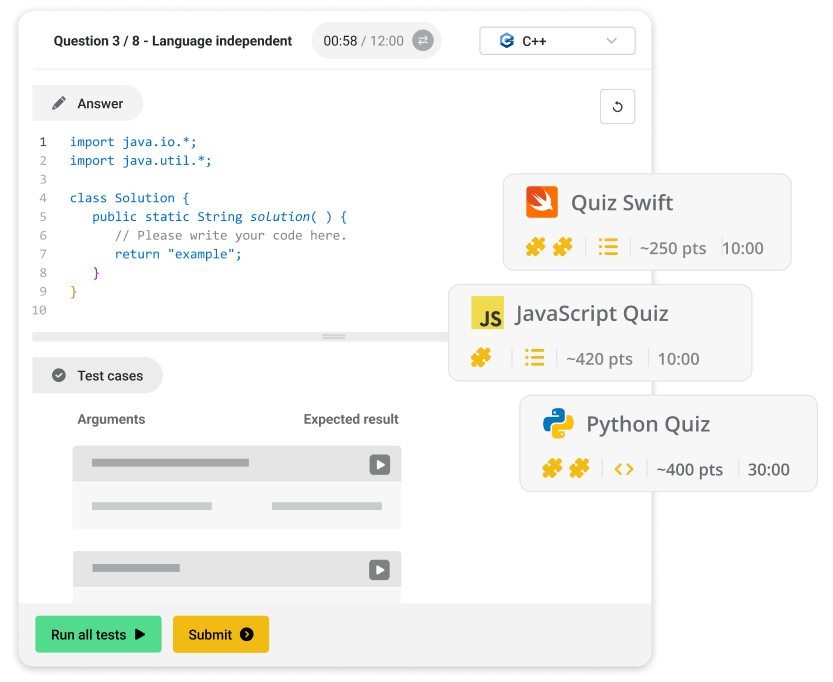 Comprehensive question bank
Assess accurately with questions for a wide range of skills and levels
Pick and choose from a vast selection of questions and build coding tests that support your ever-evolving hiring needs.
4,000+ questions tailored to junior, senior or expert positions
70+ supported technical skills. From Java to Django, we've got you covered.
90+ pre-set job roles, including Java Developer, React Front-End Developer, and Python Developer, plus the possibility to create your own
Varied question formats. Game-based, coding exercises, multiple choice, free text and custom questions.
Insightful test reports and code playback
See how candidates code to shortlist effectively
Get an accurate snapshot of candidates' technical strengths and weaknesses with detailed yet straightforward reports.
Automated grading for fast and reliable evaluation
Code playback to assess thought process and coding reflexes
Comparative score to benchmark developers against others in their field
Scoring by skills and technologies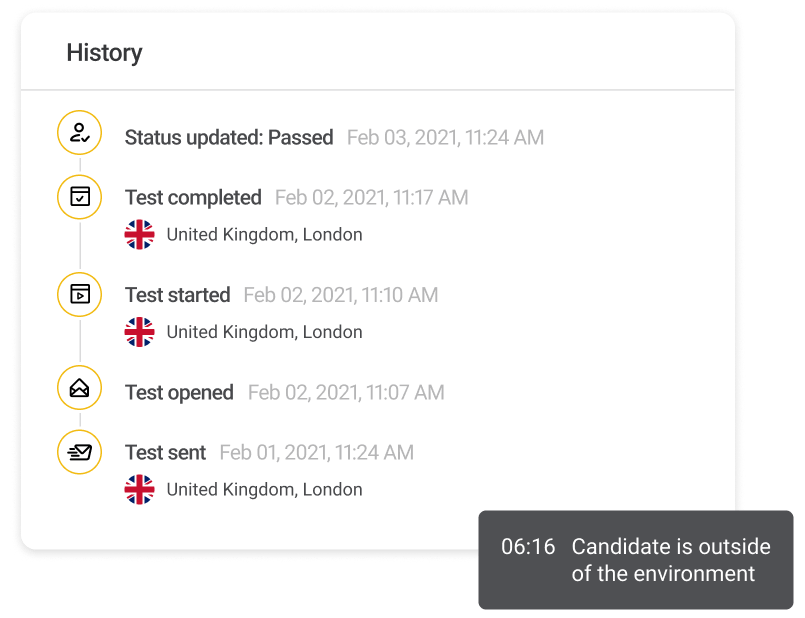 Anti-cheating features
Get alerted to plagiarism and suspicious behaviour
Ensure your candidate's results are a true reflection of their skills with our built-in safeguards.
Randomize questions so candidates can't share test details
Use code playback to see how candidates coded and when they pasted code (paste can be disabled)
Get alerts when abnormal candidate performance or plagiarism are detected
Verify candidate's approximate geolocation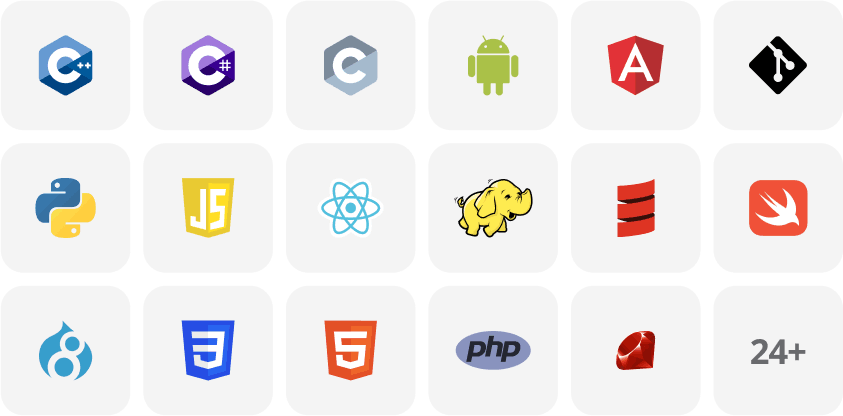 Technical assessment for all your needs
65+ languages, frameworks, and technical skills. You do it? We test for it.
Java, SQL, Git, Angular 2+, React, Data Science, Cyber Security, and many more.
Focus on front-end, back-end or combine them for a full-stack roles
See all supported languages and frameworks
Or create language-independent questions and let your candidate decide.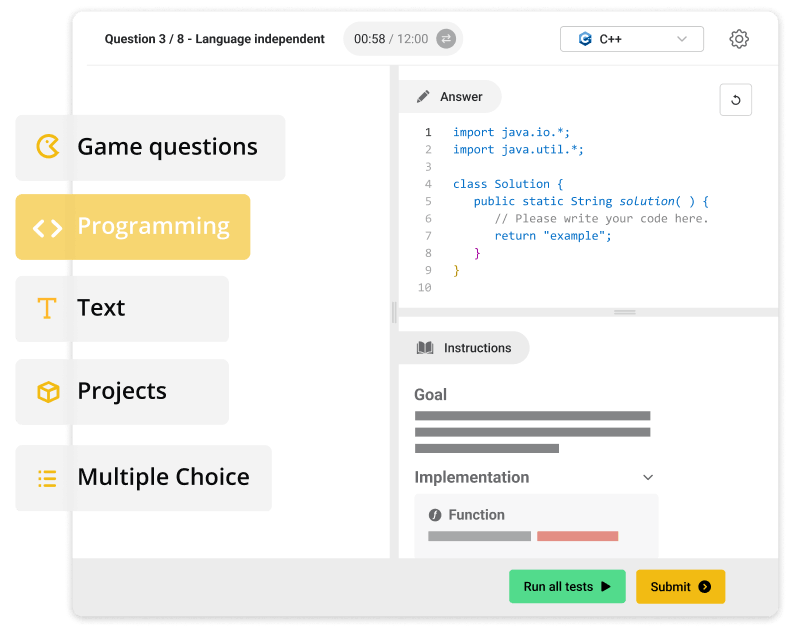 Customizable for your company
Use out-of-the-box or tailor your tests and branding
Your company is unique and we make it easy to reflect this in the tests you create. Assess what's most important for your team.
Adapt existing questions or create new ones to mirror your company's work
Choose from multiple choice, text, programming or project exercises
Customize criteria and points given for automatic grading
Add your company logo and messaging for a test experience consistent with your brand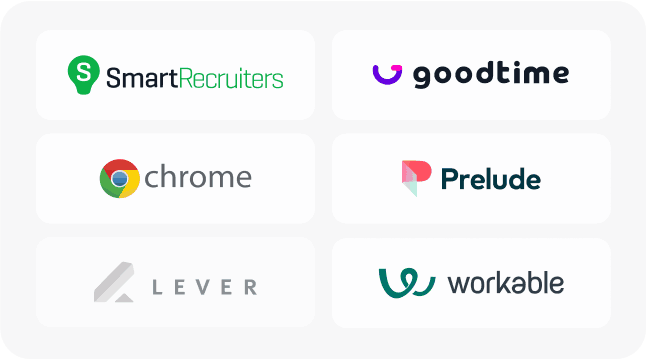 A seamless experience
CoderPad integrates with the tools you use everyday
Connect Screen to your Applicant Tracking System to seamlessly send tests and check results.
Our integrations include Greenhouse, iCIMS, Lever, SmartRecruiters, Taleo, and Workable.
You can also use our API to integrate Screen with custom tools you use.
Hiring was initially a stressful process, but with the help of CoderPad's hiring technology, it became simple.
Ajay Kumar

,

Platform Engineer

–

G2 Review
CoderPad
code interview
all
5 stars