Using CoderPad for Take-Home Projects
This document is for companies who want detailed instructions for setting up take-home projects on CoderPad.
CoderPad is the leading technical interview platform for modern development teams. It enables a quick, accurate read on a candidate's skills. CoderPad works like an IDE to help candidates easily share their skills and help you understand how they work. Through both collaborative coding sessions and take-home projects, it's with you at every stage of the hiring process. 
Our take-home projects let you see a candidate's code in Playback to help you understand how they think through problems, and assess the completeness of their solution in less time than a live interview.
We also provide the option to set up a take-home project with or without test cases, where providing test cases can help a candidate better understand the desired solution as well as give reviewers a chance to objectively see how complete a candidate's solution is.
To get started, you will need to:
Set up a take-home project question or exercise
Create take-home project pads with that question
Send take-home project pad links to candidate
Setting Up a Take-Home Project
In the left navigation, select "Take-Homes."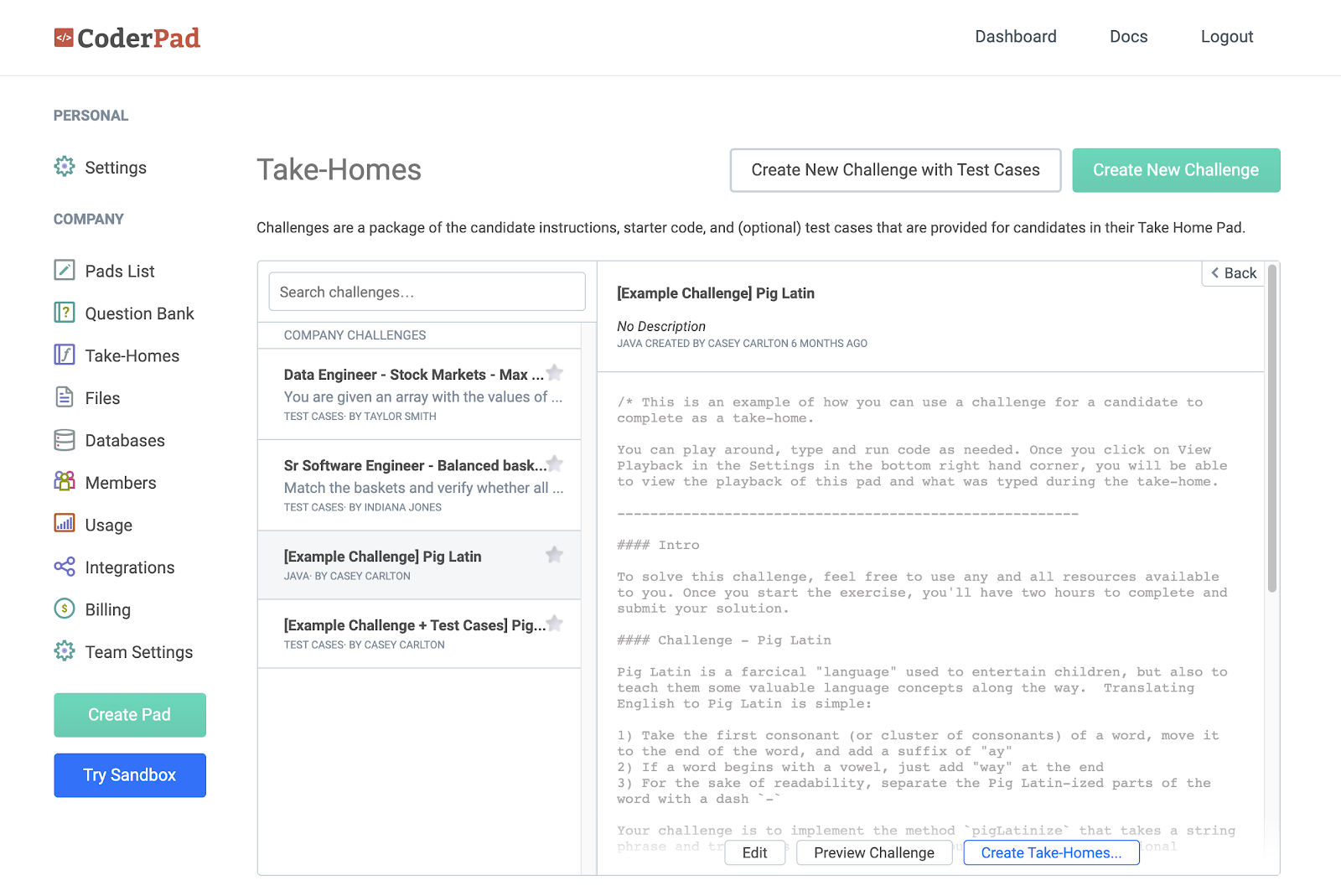 Once you select "Take-Homes", you will see a new screen showing your library of questions for use only with take-home projects. Here you can choose to set up a take-home project by selecting a question with or without test cases, or you can create a new exercise for candidates to complete in a take-home project. 
Including Test Cases when creating a new question allows for faster review of candidates' code.
(Note: Questions to be used in Live interview pads can still be found under "Questions" in the left navigation.)
Creating Take-Home Project Questions 
Questions for take-home projects need to be clear and specific so the candidate can understand what's being asked of them, independently. When writing a new question, please include:
Title – which will make it easier for others on your team to know how and when to use this question
Starting language – if you would like to recommend a language for the candidates to use
(Optional) Custom database or file – for use during the take-home project
(Optional) Internal description of the question – this will only be seen or used by colleagues – candidates do not see this information
(Optional) Candidate instructions – which are provided to the candidate and help describe the problem in detail with examples of inputs and expected outputs
Question contents – which is the information the candidate will see when they start the take-home project
Time limit – minimum 30 minutes, one hour, 90 minutes, 2 hours, 3 hours, or no limit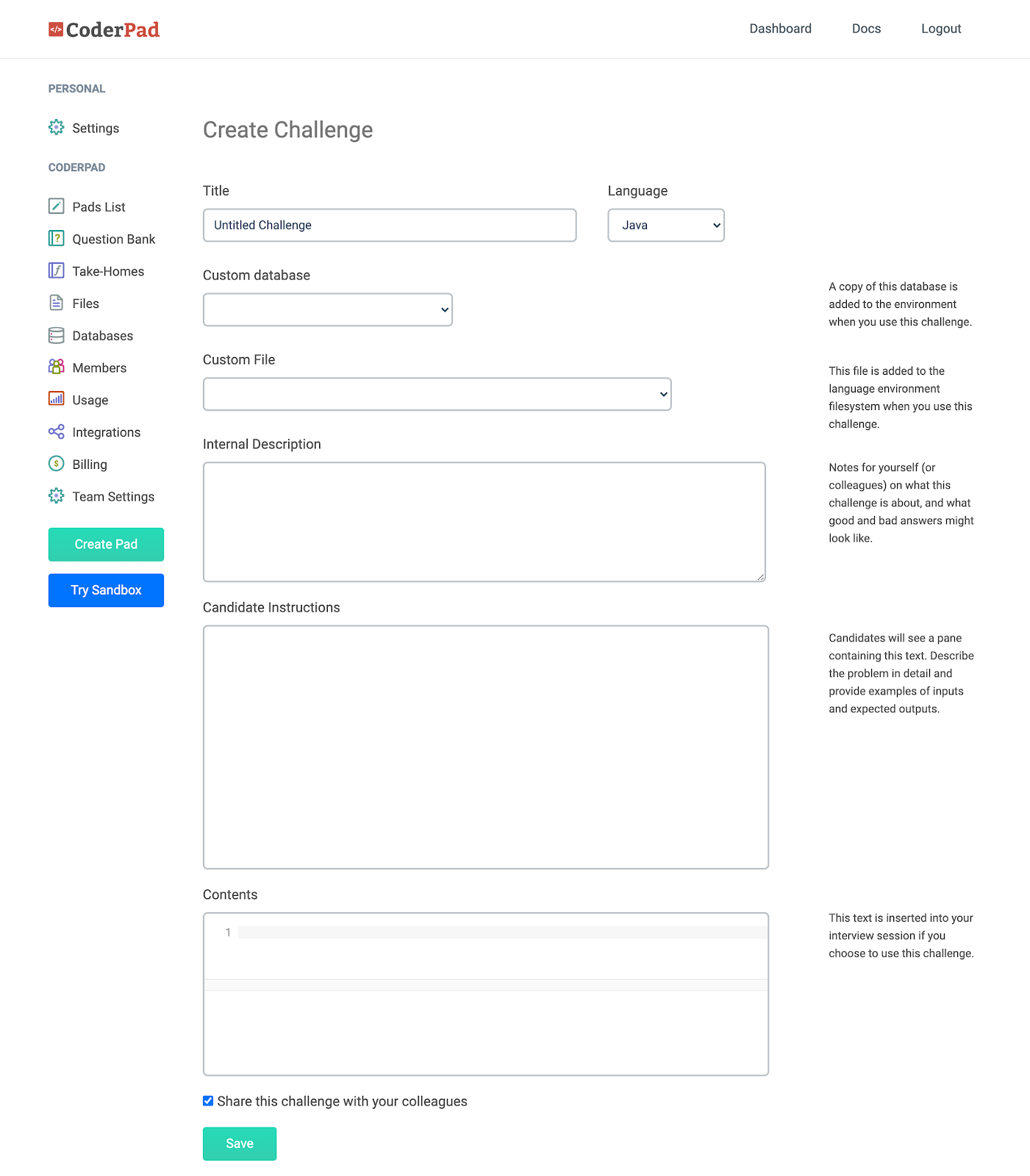 The Contents section is the most critical element for you to set up. Please remember that there won't be anyone available to guide or answer questions for the candidate, so it's important that this information be as comprehensive and thorough as possible. Feel free to include the context of the question, be specific and include relevant starter code.
When you have completed writing your question, we recommend that you click "Preview Question" before sending it to a candidate. When you preview, you will be taken to the sandbox and simulate the candidate experience. Here you can complete your take-home project like a candidate and ensure it's clear and complete.
Sending participants take-home projects
Each take-home project pad will have a unique URL per candidate that you can send via email. You can generate one URL at a time or create them in bulk. If you are creating in bulk we highly recommend you customize the name of each pad with the candidate's name to ensure consistent tracking. In your email, be sure to let the candidate know the time/date they should have completed the take-home project by, how long the timer is set for, and let them know that the code Playback and timestamps will be recorded.
Using Test Cases or Not
With take-home projects, we recommend using test cases to help quickly verify the correctness of candidates' solutions. This feature is particularly valuable when assessing a higher volume of applicants earlier in the hiring funnel.
Test cases also help communicate to candidates what type of solution you are hoping to receive.
After the test and reviewing pads
After candidates complete take-home projects, they will click "Submit" to end the session or their take-home project may be automatically submitted should time run out. This converts the pad into Playback mode with timestamps and test cases available for review by the employer. CoderPad stores all data including code written and execution output. You can click the "Playback" button next to a pad to review the take-home project at any time.
If you have any questions or concerns about how things work in CoderPad, feel free to email us at support@coderpad.io ​- we're happy to help!