Docs Index
Doc
Getting Started with CoderPad
Last updated on
This document introduces you to CoderPad and shows you how to run live technical interviews or take-home project assessments.
CoderPad account
If your company has a CoderPad account, ask your administrator for an invite and instructions on how to login.
If your company does not have a CoderPad account, register here.
For paid plans, visit our Pricing page and click 'Buy Now'.
What's a pad?
A pad is a session where the candidate and interviewer write and run code – either during a live collaborative interview or a take-home project.
A pad is like development software for programmers, or an IDE. You write code in the left-hand pane, run code with the 'Run' button, and view output in the right-hand pane.
CoderPad allows interviewers to run and debug code with candidates in over 30 languages, many with attached libraries and packages. Customizable settings include autocomplete, auto-close brackets, light theme, and Vim mode.
Live interview features
Take-home project features
Automated test cases: Use visible, or invisible, test cases to see whether the code passes or fails.
Configurable time limit: Set your pad to automatically submit after either 30, 60, 90, 120, or 180 minutes. Alternatively, set no time limit.
Question Bank
Recruiters can use CoderPad's Question Bank to create and store questions for each technical role.
Share lists of interview questions with your team.
Allow individual interviewers to manage their own list of questions.
Create questions specific to live interviews or take-home projects.
Assign multiple questions to candidates as they progress through the hiring process.
Use Example Questions as inspiration for your own questions.

Set up a live interview or take-home project
Use a new pad for each interview or assessment.
Live interview pads
You can set up a pad for a live interview by either:
Clicking the 'Create Pad' button on "Pads List" and adding questions to it from your Question Bank.

Creating a live pad directly from a question in the Question Bank.

When the pad is ready, send an invite to the candidate by clicking the button in the bottom left corner.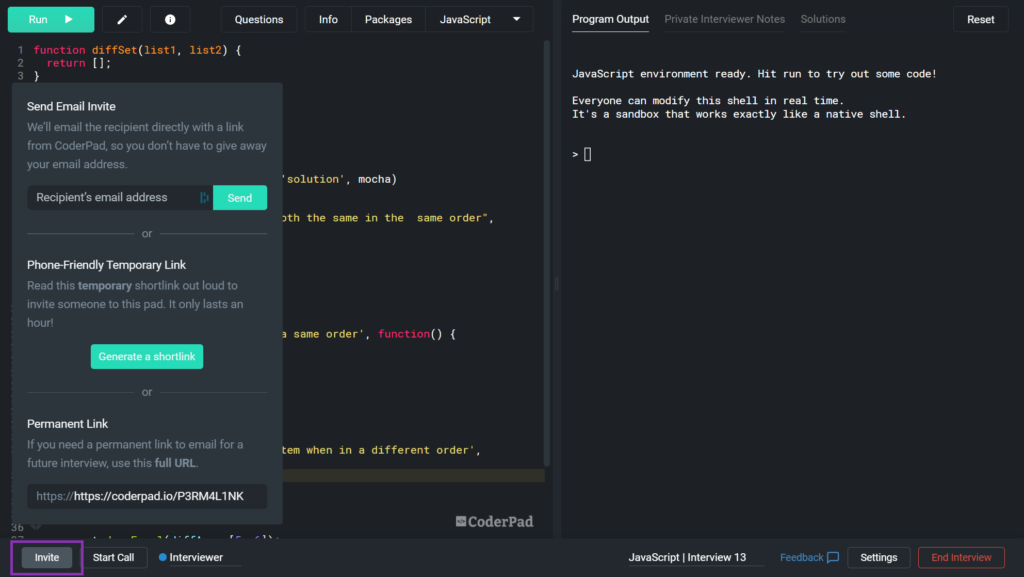 Take-home project interview pads
You can set up a pad for take-home projects by:
Clicking the 'Create Take-Home' button from your question bank.

Selecting a time limit for the candidate.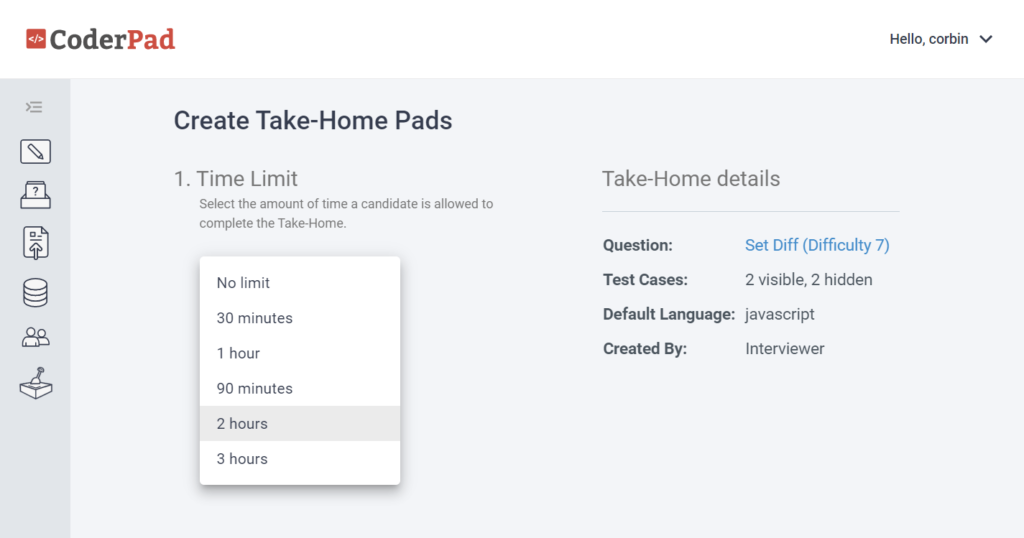 Adding pad names. Each pad name represents a separate interview that uses the same pad. Use as many as you like.
The "View Take-Home Pads" page displays the generated pad links.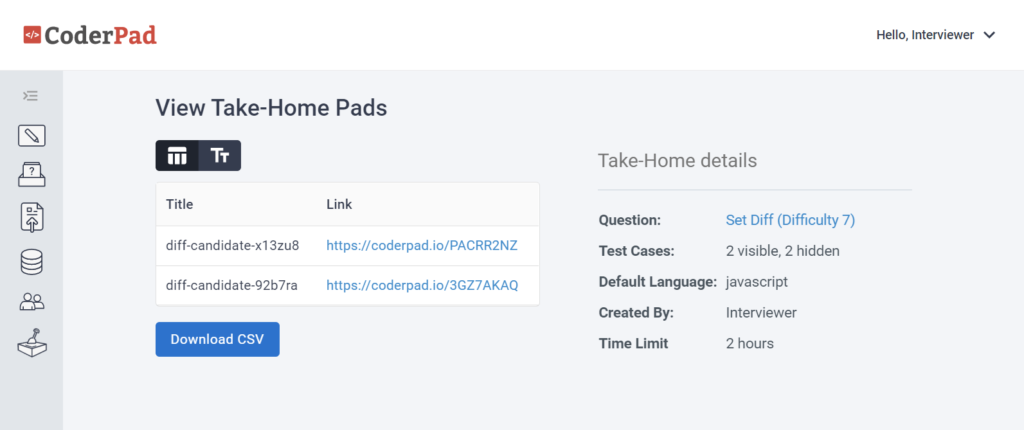 You will receive an email once your take-home project pads have been created.

End live interview or submit take-home project
The candidate loses access to the pad when the interview ends or they submit the pad.
Ending a live interview
Click the 'End Interview' button on the lower right hand corner.
Ending an interview enables Playback Mode.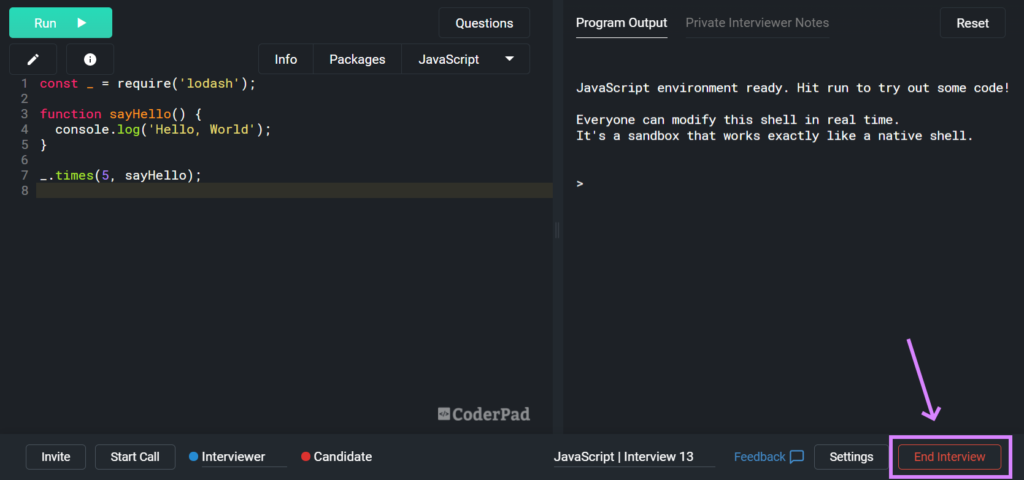 Ending a take-home project
To submit a take-home project, the candidate clicks the 'Submit Take-Home' button in the lower right-hand corner.
This enables Playback Mode for the interviewer.

Recruiters and interviewers can start the technical assessment debrief when the interview is over or the candidate submits the pad. Use CoderPad to review the interview with your team, replay how a candidate reached a solution, and more.
CoderPad saves every keystroke. You can replay the entire session, keystroke by keystroke.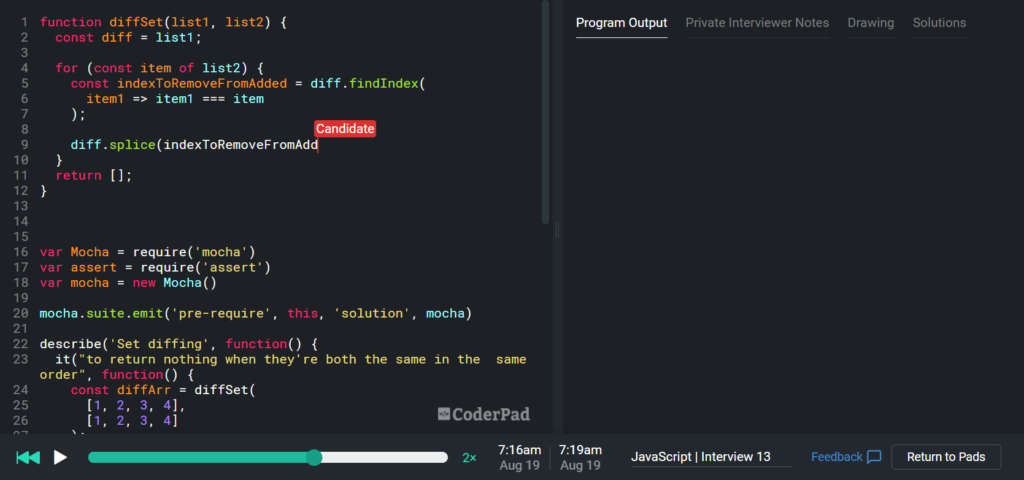 View the user's program output throughout the interview and gain insight into their thinking process.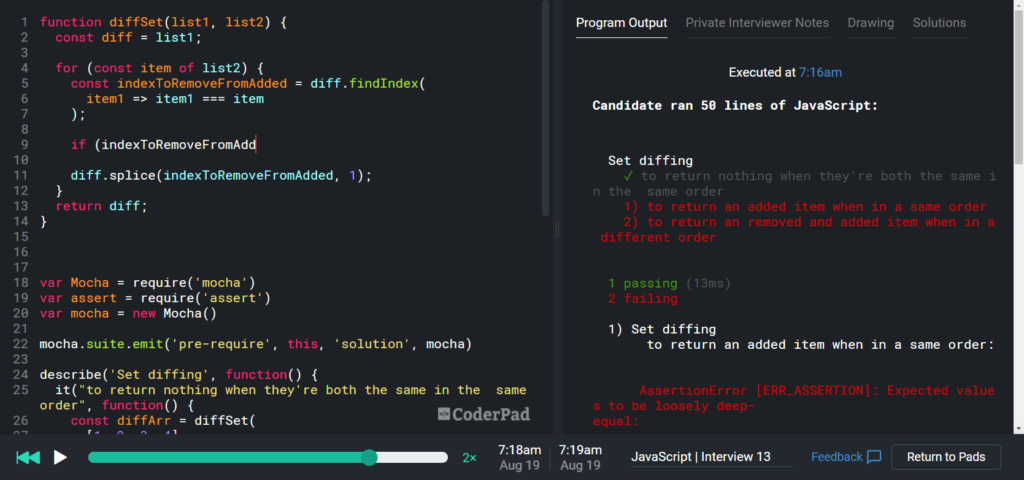 View the results of take-home project test cases.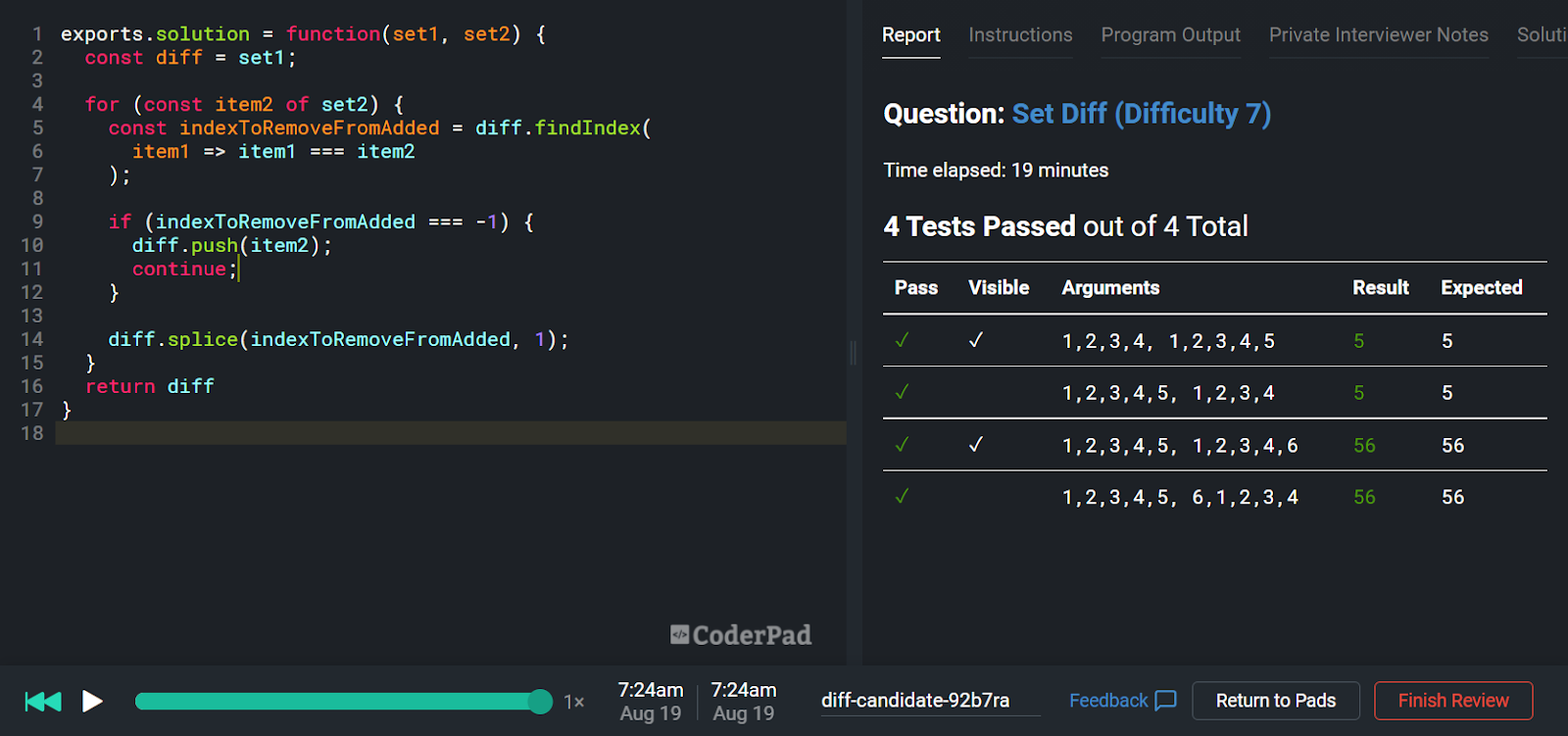 For reviewing drawings, CoderPad saves the final snapshot from Drawing Mode if you used it in a live interview.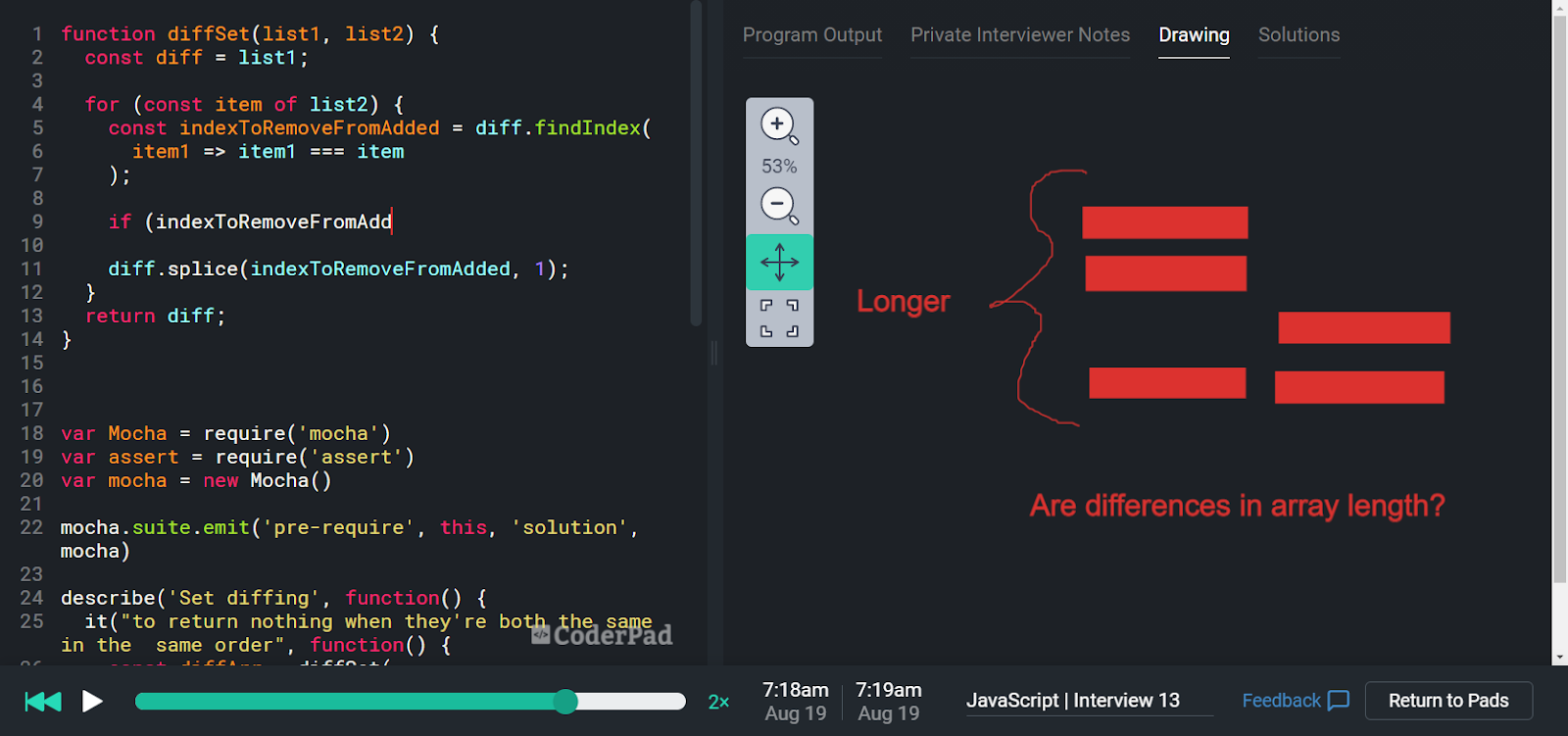 Get in touch
If you have any questions or concerns about how things work in CoderPad, feel free to email us at support@coderpad.io – we're happy to help!