Categories
6 Niche Job Boards to Find Software Developers
In 2019 the U.S. Bureau of Labor Statistics predicted jobs in the software development field would increase by 22% between 2019 and 2029 – a much faster growth rate than for most other occupations.
In a world already trending towards software-driven work, recreation and products, the introduction of COVID-19 pushed the need for remote work and touch-free transactions even further, faster, than ever before, increasing the need for developers.
In a more specific set of numbers, a Korn Ferry study indicates that by 2030 the shortage of skilled talent globally will surpass 85 million. In 2019, only 54-58% of U.S. openings for web developers, app software developers, and system support developers were filled.
It's crystal clear that developers are in high demand. So how can you, as a recruiter, get the top-tier developers you need for your company when the market is so competitive and they are increasingly hard to find?
Oh, by the way, we've put all of our articles and resources on how to find and hire developers here.
How do you source a software developer?
The top three sources for finding hires today are referrals (24.5%), career sites (23%), and job boards (18%).
Techies meet lots of their colleagues playing online games, competing in online coding competitions, at conferences, working on projects together, sharing on tech forums and in Slack communities, etc. Your own developers are likely to know someone for the job, and will have a good idea of the skill level and abilities of their friends and online acquaintances. But, if you don't happen to get any referrals, and your company doesn't maintain a career site, your best bet is a job board.
While the job board is a great place to start, you will likely have a better chance to find a software developer on a niche job board. These are less generalized job boards focused on a specific location or industry. They allow recruiters to target qualified candidates faster: you don't have to plow through a plethora of applications from tech wannabes.
Although less busy, recruiters find they tend to produce higher-quality candidates because they attract candidates who are more focused on their skills and trade development. This article will focus on presenting a few of the best niche job boards for developers to help you get started in your search for the ideal hire.
A quick word of advice: make sure your job descriptions are detailed and denote clear expectations. Even with a job-specific niche board, a generic job ad will result in unqualified candidates who are guessing they might fit the role. An accurate job description on a niche board will yield fewer applications but a larger percentage of well-qualified candidates.
The best niche job boards to find software developers
If you've read any techie articles at all, you'll have seen the words Stack Overflow iterated quite a lot. Stack Overflow is more than just a job board: it's a discussion forum where programmers ask and answer questions—a peer review site.
According to co-founder Jeff Atwood, Stack Overflow and Discourse were created to be "useful to working programmers." As such, a job board was a natural extension of the original site.
Designed for professional and serious enthusiast programmers, it is frequented by some of the world's best programmers from around the globe, and thus is an excellent site to find a software developer. Stack Overflow has 5 million registered users and attracts around 50 million visitors a month. As for posting a job there, it is super easy to target the specific type of programmers you need by category. You just type in and select "tags" such as "developer," "Docker," "backend," etc. Job seekers can choose their specialties and your ad will be displayed.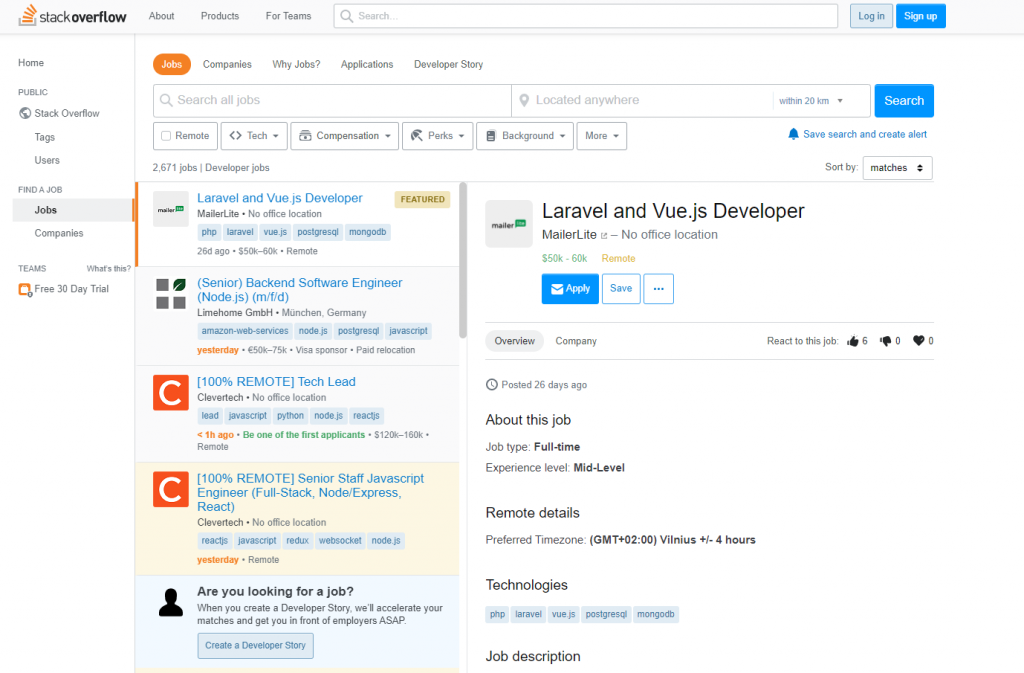 Stack Overflow also offers its own brand of resume: The Developer Story. Promoted as "The New Technical Résumé", it goes beyond the traditional résumé to feature a developer's portfolio in a one-off format that shows their accomplishments at a glance, with links for closer review.
If you want to validate potential candidates' skills you can use CoderPad Screen, where you screen and rank candidates at the beginning of your hiring process. This way you can get an objective and accurate snapshot of their technical skills, regardless of what their resume says.
Strictly a job board site, Dice is considered a top recruitment engine for tough to source tech jobs worldwide. Considerably less trafficked than Slack Overflow or GitHub at 3 million registered tech professionals and 2.4 million visitors/month, reviews share that while Dice offers fewer resumes than its larger competitors, it grants access to top talent—and, after all, it's quicker and easier to find gold nuggets in a smaller stream.
Dice's unique strategy is its Open Web social recruiting tool. The Open Web tool garners information on millions of candidates from 50 social sites to add more in-depth information about the professionals whose resumes are on the site. Open Web even uses sites like GitHub to highlight candidate's tech projects and interactions with peers.
Dice offers a free trial, with subsequent job posts starting at $395 for one post and dropping to $250 for 5-10.
Mashable is an American news platform with 25 million followers and more than 45 million visitors/month. Focused on science, technology, social media and digital culture, its tech news focus attracts plenty of tech types. With this kind of exposure, it is a good bet the developers you need could be reached here.
Mashable distributes its jobs ads to other job search engines such as CareerCast and ZipRecruiter, extending the reach of your search. Mashable also offers tools for simplifying recruiters' searches, including email alerts, search and tracking tools, featured job postings and employer profiles, etc.
Prices range from $259 to $399 for a single post, depending on how widely you want to broadcast your ad, as well as packages up to $1,067 for multiple listings.
How do I find my startup developer?
The battle for the best developers is increasing between startups. Outsourcing for software development at start-ups is expected to increase by 70% between 2022 and 2023, according to new research from Commit. But you still can afford $9,500 to find a hire for your startup. Yet it is probably even more crucial for you as a startup to find the right developer. Don't know where to look? Here are 3 niche job boards particularly useful for hiring startup developers.
AngelList brands itself as "a network, not a job board," with over 3,300,000 candidates who want to work in a startup actively searching the site for jobs. It's a good place to source candidates whose declared interests and skills match your company's needs. Offering all sorts of services to help the greenhorn startup move forward (it's also a place for startups to connect with angel and VC investors and more), it offers much more than mere recruitment help.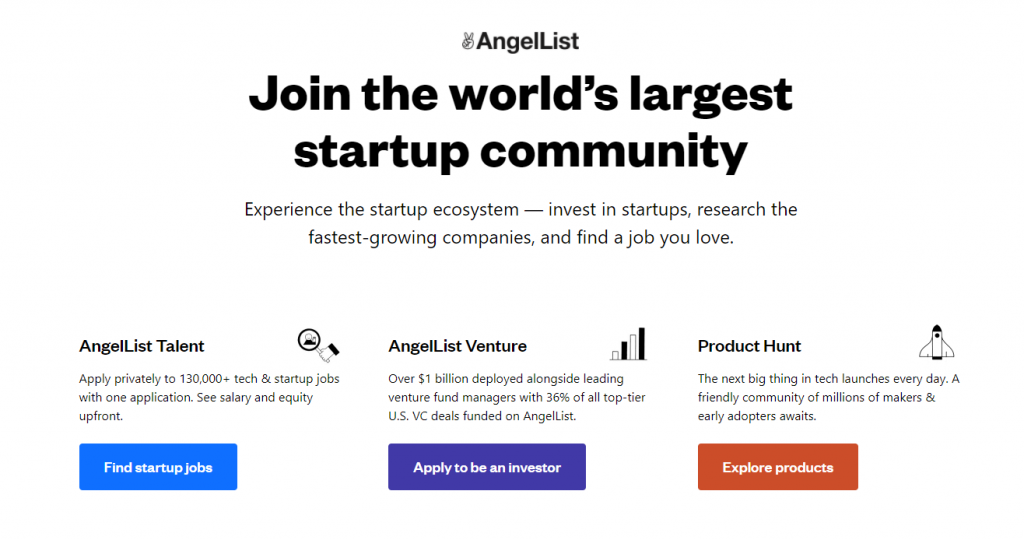 AngelList provides startups with basic job posting tools for free, and appears to have premium advanced search and filter tools (with a free 14-day trial!). AngelList says they work with companies' own ATS, which could be helpful.
Their very name sounds promising! Their sign-up site is simplistic compared to that of many other job boards. Startupers requires you have an ATS and a twitter handle to be eligible for their services, but who doesn't have that these days?
Startupers promises your ad will be seen by Silicon Valley's finest talent. If that makes you worry that it's only for US talent, you can allay your fears by checking their job board—we found Canada and UK-based jobs too.
Reviews bemoan the lack of advanced search features, but job listings are free, and that's generally more essential for many startups.
Self-proclaimed the #1 Startup Founder Community, F6S is all things startup, boasting 1.5 million founders and 600K startups globally.
Talent looking for startup jobs look here, and there are plenty of developer jobs cycling through, such as UI Developer, Web Developer, Senior Full Stack Engineer/Developer, and more. F6S's unique draw is the personal connection available through the application experience, with the job posting providing a picture of the hiring manager and a direct "Connect" button for easy access.
Job postings are free, and you can evaluate and interview candidates using F6S's online tools.
–
Whether you are an established business or a newbie startup, there are many places to source software developers for your team—just remember that with developers you may have better luck trying the less traditional pipeline.
Check with current employees for referrals; try freelance platforms; attend developer conferences and meetups; join developer communities and forums, LinkedIn. Look for winners in coding contests such as those held by CodinGame, now a part of CoderPad, to identify top-performing individuals. Increasing numbers of large companies are investing in upskilling their own employees. Think outside the General Job Board (Indeed, Monster, CareerBuilder…).
Niche job boards are just one resource you have available, but they can help narrow your search to a smaller pool of highly qualified tech talent. Don't just use one board: continuously and simultaneously post on multiple niche job boards, where there's a little less noise, and you're more likely to hear a quick response. And don't forget to spend some time on your company and job description—the extra time spent will multiply the time saved in getting a close candidate match.