Developer-Friendly Technical Assessments
With CodinGame Assessment, hire developers based on their skills – not their resumes. Screen candidates at scale and evaluate their coding skills early in the hiring process through fully customizable assessments.
Get started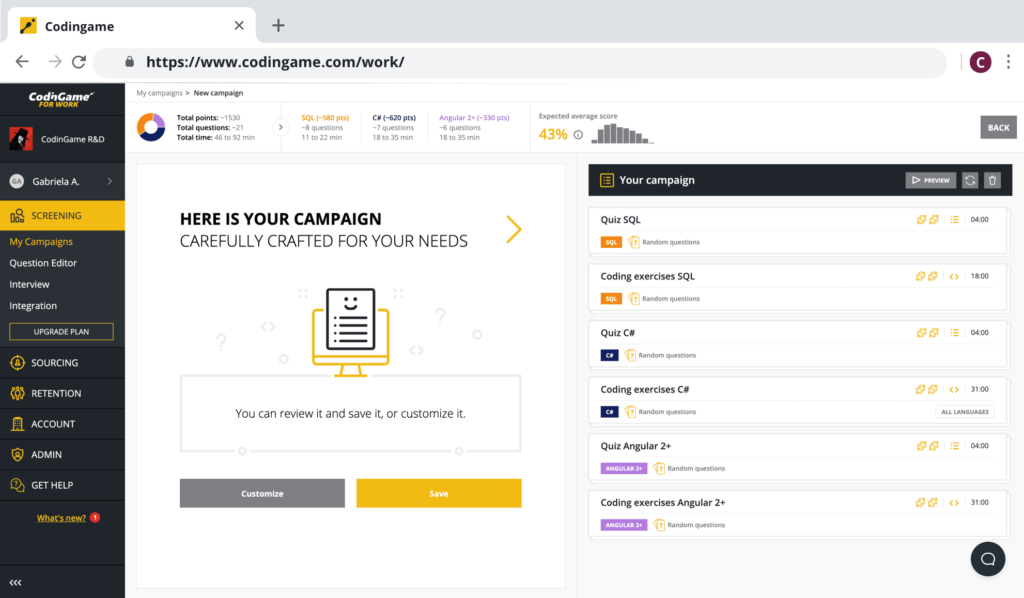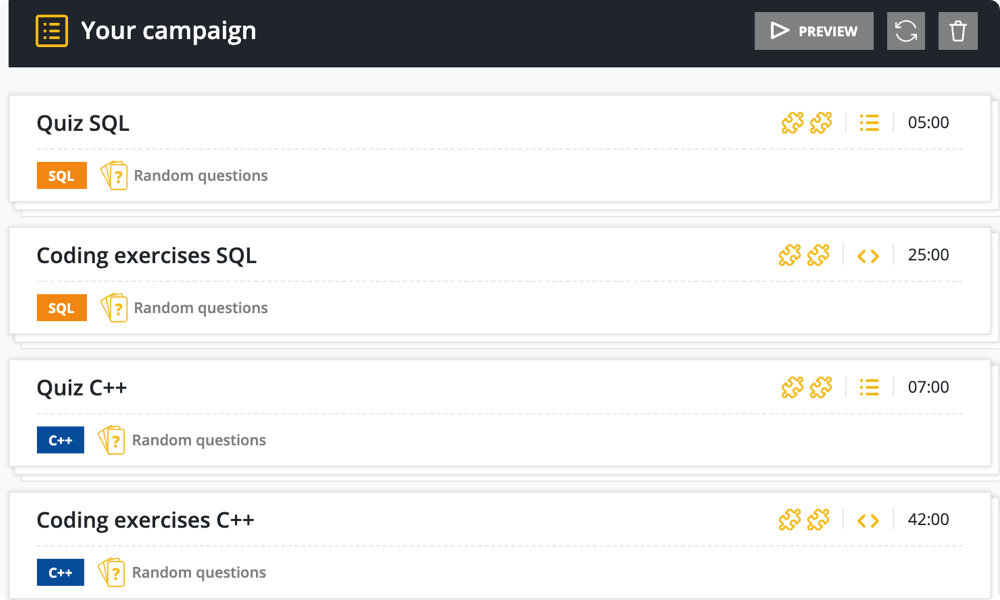 Test Wizard & Random Questions
Use our prebuilt online coding tests to set up an assessment campaign perfectly suited to your needs. Each assessment takes no more than 5 clicks to create – and does not require any programming experience.
Choose from 80+ predefined job roles and seniority levels
Discover 3,500+ coding challenges
Access 60+ technologies and frameworks
Get help balancing your campaign difficulty level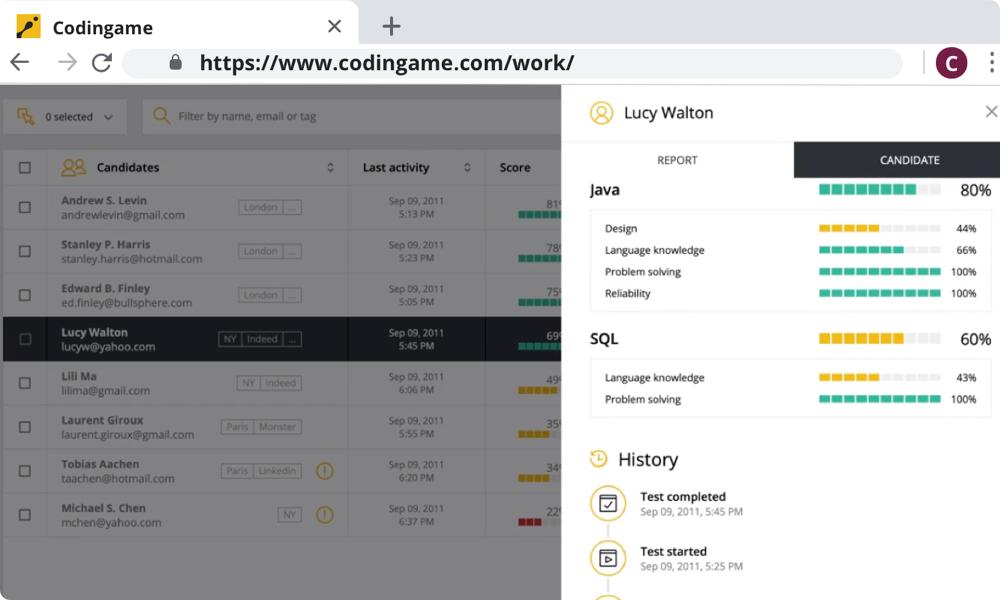 Assessment Reports
Once your candidate has completed a technical assessment, a report is generated that is both easy to use and to understand – empowering non-technical recruiters. Candidates are automatically ranked and benchmarked according to their performance, producing a secure and ready-to-go shortlist.
Automated rankings
Global benchmark scoring
Cheating protection
Test report exports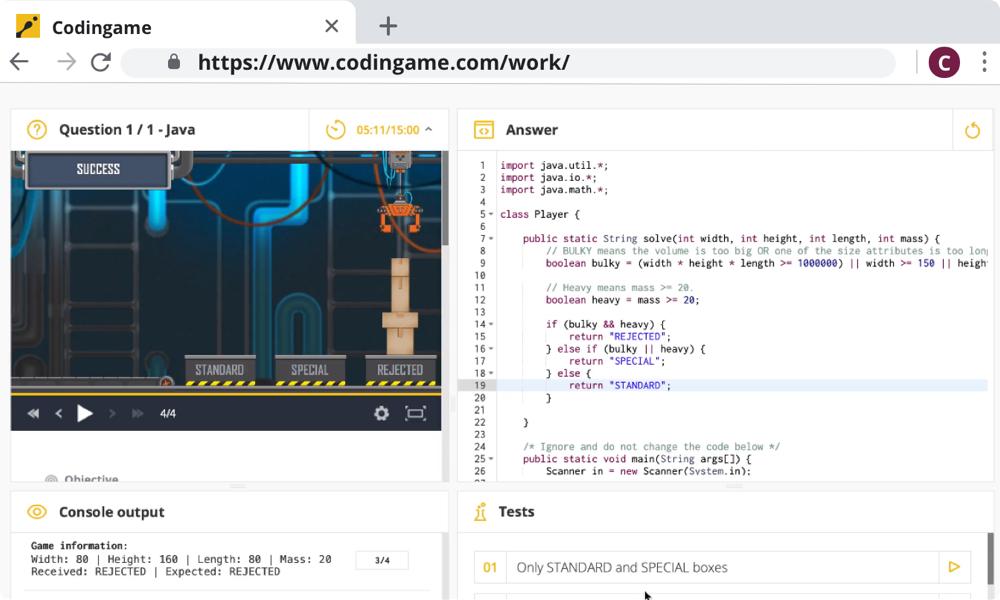 Gamified Test Sessions
CodinGame transforms the technical assessment experience through specifically-designed programming games. Invite your candidates to showcase their creative thinking and problem-solving skills in a fun way, while boosting their engagement and reducing their stress.
Reduce test anxiety
Provide outstanding candidate experience
Measure creativity and strategic thinking
Best-in-class candidate experience inspired by our
community of 2mil+ developers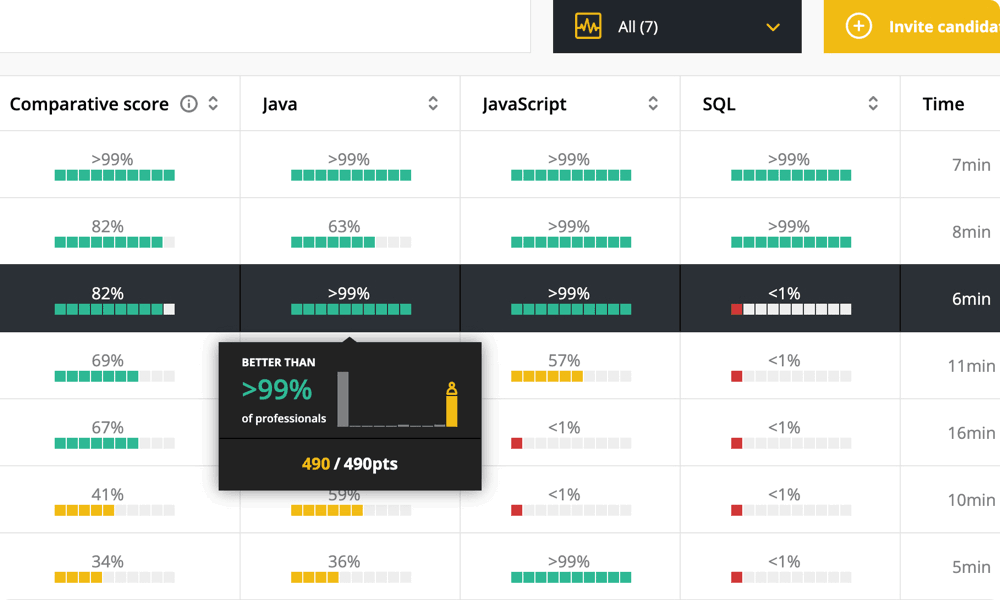 Features to Reduce Bias
We know that unconscious biases exist in the technical recruitment process. Proactively addressing these biases results in a more level playing field for candidates – and better hiring results for you. CodinGame enables you to make your process more fair and reliable through:
Candidate anonymization
Language independent coding exercises
Comparative score
Question libraries available in English, Spanish and French
We had no unified approach or tool to assess technical ability. Today, CodinGame Assessment enables us to test against a wide selection of languages and is continually updated.
—

Simon Coombe

,

Head of Talent Acquisition

,

Nasdaq North America
CoderPad
code interview
all
5 stars