Categories
Top 10 IT Job Boards to Boost Your 2023 IT Recruitment Strategy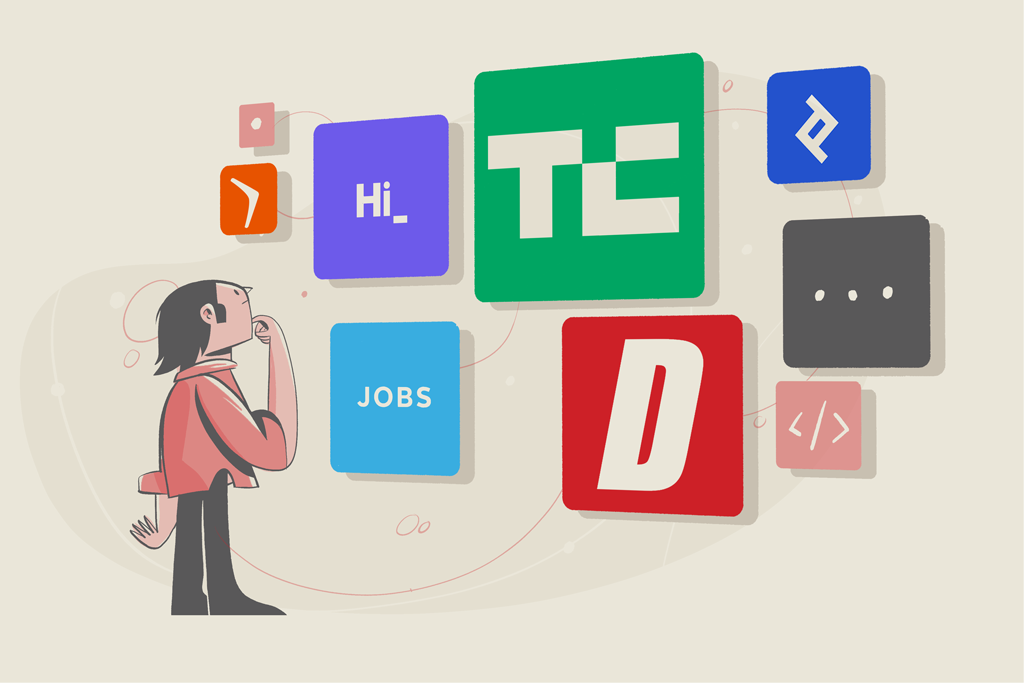 Recruiting top talent in the highly competitive technical field can present a challenging undertaking. Due to this, in 2023, companies are leveraging the power of IT job boards to find their dream candidates. These job boards have become an essential tool for recruiters looking to expand their talent pool beyond their immediate geographic area, especially with the rise of remote work due to the pandemic.
According to a survey by International Association of Employment Web Sites, there are more than 50,000 online job boards worldwide. In this article we'll explore the benefits of using IT job boards, list 10 of the best IT job boards in our opinion and provide some tips for finding the best candidates.
Table of Contents
How IT job boards can help you find top talent
Based on a recent study, the online recruitment market has seen tremendous growth and its value is expected to exceed $43 billion by 2027. This growth is also attributed to the many advantages that job boards offer to both employers and job seekers.
One of the primary advantages of using an IT job board is the availability of more and better opportunities for both recruiters and job seekers. This platform connects them directly, which means that recruiters can find suitable candidates outside of their network, while job seekers can discover job openings that match their qualifications and preferences. And not only outside of their network, but also 24/7. That's why 50% of job applications come from job boards today.
IT job boards are user-friendly and save time. They integrate Applicant Tracking Systems (ATS) that streamline the recruitment through the monitoring of candidates' skills, which leads to substantial savings in time and resources. Additionally, job boards serve as a valuable source of information for recruiters, providing a database of candidate information, including their CVs and qualifications, which is accessible at all times.
One way recruiters can leverage IT job boards is by sharing personalized screening tests with candidates. For example, tools like CoderPad Screen allow recruiters to create "Open Assessment Links" which can be included in job postings. These links enable candidates to take a test and demonstrate their coding abilities.
Not to forget, that employer branding has become an important aspect of recruiting, and job boards such as Monster provide recruiters with a platform to showcase their company as an attractive employer. Job seekers can gain insights into a company's reputation as an employer through reviews and ratings posted on job boards. In fact, 58% of job seekers assess a company's reputation through job boards, according to Hubspot's employer brand study.
Factors to Consider When Choosing IT Job Boards
To ensure successful IT recruitment, it's important to choose the right job board. When creating your recruitment strategy, consider factors such as the job board's user base, the quality of candidates available, and the pricing of various IT and engineering job sites. After that, review the following features to make an informed decision about which job board to use:
Relevance
According to SHRM, the average time to hire a new employee is 36 days. Therefore it is important to optimize your search for the right candidate and minimize time spent; consider using IT job boards like Crunchboard or Dice that are tailored to the specific IT or engineering skills.
Popularity
When choosing a technical job board, consider its popularity and reputation. Popular job boards usually have a higher number of job postings, which can attract more candidates and increase your chances of finding the right fit for your team.
Features
Consider job boards with advanced search options such as interview scheduling tools, test assessments, and resume posting services. These features can optimize your sourcing process, making it more efficient and helping you find the most relevant profiles.
Pricing
Before choosing a job board, be aware of any associated costs. Some sites may charge a fee for additional features or reaching more candidates. It's important to consider these costs when comparing different job boards.
User-friendliness
Choose a job board that is easy to use and navigate. According to a survey conducted by the Society for Human Resource Management, 77% of job seekers use their mobile devices to search for job openings, and 61% of job seekers expect career websites to be mobile-friendly. This means that if your career site or job board isn't optimized for mobile, you could be missing out on a significant portion of potential candidates during their job search.
By considering these factors, you can narrow down your options and find the IT job board that best suits your needs and preferences.
Best Job Boards for IT Recruitment
Now, let's dive into the top 10 IT job boards that can boost your IT recruitment strategy and help you find the best software engineers for your organization:
Features of Crunchboard :
Self-serve UI with multiple listing and applicant management features for easy use
Reach over 1.5 million professionals in technology, data science, machine learning, cybersecurity, and other relevant IT fields worldwide
Access 10,000+ analytics-related job listings across various industries
Benefits of Crunchboard :
Excellent niche reach ensures job postings reach relevant candidates
Averages over 3 minutes per page, making it one of the top-performing intent-based engineering job boards for tech candidates and employers
Responsive customer support for any inquiries
Weekly newsletter to recruiters and hiring managers with a curated batch of engineering, product, and business candidates.
Straightforward, flexible pay-per-hire or subscription pricing options.
Ensurement of best candidates on the market. Only the top 5% of applicants make the cut.
Diverse pipeline of tech candidates.
Focus only on candidates in engineering, data science, marketing, sales, operations, finance.
Dice
Features of Dice :
Over 40,000 job listings for data analyst roles in the U.S. market
Advanced hiring support features, including AI-based matching, advanced resume search, and AI-powered matching algorithms
Efficient ATS integration for a streamlined hiring process
Offers advanced candidate search and AI-based hiring features
Benefits of Dice :
One of the top tech hiring job boards in the U.S. market with a wide reach
Over 2 million monthly visitors and a database of around 2.7 million resumes of freshers and experienced candidates
Tailor-made plans for employers with multiple tech positions to fill to fit their specific needs.
Features of F6S :
Candidates can be kept informed of upcoming deadlines through the platform's direct messaging feature
The platform allows users to create and promote events to specific profiles within the community
F6S offers an option to track when an applicant starts but does not finish filling out a form
Benefits of F6S :
Tech talent focus: F6S is primarily focused on tech workers who are ready to join a startup
The platform offers the ability to filter candidates based on different characteristics, such as country or program, resulting in stronger data management for the recruitment pipeline
F6S has received high praise from most incubators as a quick and effective way to find tech talent
Features of Authentic Jobs:
A job monitoring dashboard allows employers easy application reviews, job post edits, and subscription renewals
Provides the salary calculator for recruiters
Can provide companies with features to fill tech positions with external contractors

Benefits of Authentic Jobs:
Complete refund possibility If employers are dissatisfied with the service provided by the platform
Nonprofit organizations and educational institutions qualify for discounted rates
The site's reach extends globally
Features of Product Hunt :
Dedicated job board for product management, web analytics, marketing, engineering, and design roles
Posting a job costs $299 for 30 days with an option to cancel anytime
No add-on features for filtering through candidate profiles or tracking applicants
All hiring activities happen off-site
Benefits of Product Hunt :
High traffic with over 4.5 million monthly visitors
Provides an option to boost post visibility for a higher price
Great for building startup teams
Features of Hire Tech Ladies :
Efficient contact with candidates via a newsletter with featured job openings
Allows customized employer branding opportunities
Provides on-demand support
Has a big U.S candidate database
Benefits of Hire Tech Ladies :
Offers a supportive online community where you can network.
Has more than 150,000 engineers, designers, product managers, marketers, and more
Proactively matches candidates with the right hires for open roles at your organization.
Features of TechFetch :
A multi-platform engine that matches jobs with a database of over a million tech professionals
Advanced technology that matches jobs with relevant active candidates in just 30 seconds
Employers can choose between two paid subscription plans, both offering access to over two million tech professionals and more than one million tech resumes
Sophisticated search filters simplify resume searches, and resume searches are saved for future use
Benefits of TechFetch :
A 7-day free trial is available for employers to test the service
Connect with a global tech workforce community spanning the U.S., Canada, U.K., India, the Middle East, and other countries
Employers can save time by finding the right candidates quickly, thanks to the advanced matching technology and sophisticated search filters
Features of Toptal :
Rigorous Screening Process: Toptal conducts extensive screening of applicants, including skills and proficiency assessments, to ensure that only the top 3% of candidates are accepted into their network
All projects are completed remotely, with the option to temporarily have Toptal experts on-site if required
Employers are matched with an expert within 24 hours, enabling them to begin their projects quickly
Benefits of Toptal :
Time-Saving: Toptal's senior domain experts take care of the candidate matching process, saving employers time and resources.
Positive Reputation: Toptal has received overwhelmingly positive reviews from users on Trustpilot and Sitejabber, attesting to the quality of their services.
On-Demand Support: Toptal provides on-demand support for employers throughout the hiring process, ensuring a smooth and seamless experience.
Features of DataYoshi :
A flat rate of $399 for posting a job currently offered at a discounted price of $199
Ad featured on the front page of the job board for 30 days and emailed to over 10,000 newsletter subscribers
Clean and user-friendly site navigation
Profiles of candidates who've created an account on DataYoshi can be viewed
Benefits of DataYoshi :
Offers an affordable discounted rate for job postings
Decent worldwide reach with 45,000 monthly hits dominated by visitors from the U.S., Germany, India, Brazil, and the UK
User-friendly site navigation with a clean UI
Attracts top companies like CVS Health and JPMorgan Chase Bank.
How to effectively utilize technical job boards?
As mentioned before, IT job boards are a popular and effective way to reach out to potential candidates. However, simply posting a job on these boards is not enough; you need to optimize your job posting to make it easy to find and attractive to potential candidates.
The first step to utilizing tech job boards effectively is to understand how different boards rank jobs. This can help you to tailor your job posting for maximum visibility. Job titles, locations, and salaries are the three most important criteria job seekers use when searching for a job. Therefore, it's important to include these details in your job posting. If you don't provide a salary range, your job may be invisible on some boards.
To stand out among the competition, job postings should be attention-grabbing and tailored to the specific board. Being clear about key requirements early on and utilizing multiple job boards, including niche tech industry boards, can help you reach a wider audience. Consider a company-branded, account-managed posting over buying credits online to make the most of your IT recruitment budget.
Finally, use the available functionality on job boards to manage the volume of responses. Filter questions and response templates can be helpful if you don't have an ATS system. By following these tips, you can effectively utilize IT job boards to find the right candidates for your IT positions.
What are the challenges and limitations of using IT job boards for recruitment in 2023?
One major challenge is increased competition in the tech job market to attract top talent, which can lead to higher pricing and decreased visibility of job postings. Additionally, IT job boards are becoming more saturated with candidates, making it harder to find the right fit for a specific role.
Another limitation is the potential privacy concerns that arise when using these job boards. Some candidates may hesitate to share personal information on these platforms, especially with recent data breaches and privacy concerns. This can make it difficult for recruiters to gather information about potential candidates.
To address these challenges and limitations, recruiters can focus on using niche job boards or specialized IT job boards that cater to specific roles or industries. Employers can also explore other recruitment strategies, such as social media and employee referrals. It is important to continuously evaluate and adapt recruitment strategies to overcome these challenges and limitations in the ever-evolving landscape of IT recruitment.
FAQ on IT job posting
Can I post IT job openings on multiple job boards simultaneously?
Yes, it's common practice to post job openings on multiple job boards simultaneously to reach a wider audience of potential candidates.
Are these job boards free to use for employers?
Not all job boards are free for employers. Some job boards charge a fee for posting job openings, while others offer a combination of free and paid posting options.
How can I optimize my job listings for better results on these job boards?
To optimize your job listings for better results on job boards, make sure to include job titles, locations, and salaries in your posting. Use attention-grabbing and optimized job copy that is tailored to each job board. Be clear about key requirements early on to avoid non-relevant applications. Consider a combination of channels, such as niche tech industry boards, a general board, and a professional network like LinkedIn.
Can I search for potential candidates based on specific IT skills and experience on these job boards?
Yes, many job boards offer candidate search capabilities where you can filter for potential candidates based on specific IT skills and experience.
How often should I review and update my job postings on these job boards?
It's recommended to review and update your job postings regularly, especially if you're not getting the desired response. Consider updating the job copy or adjusting the posting details to increase visibility and attract more qualified candidates.