The leading technical interview platform for development teams
Sign up free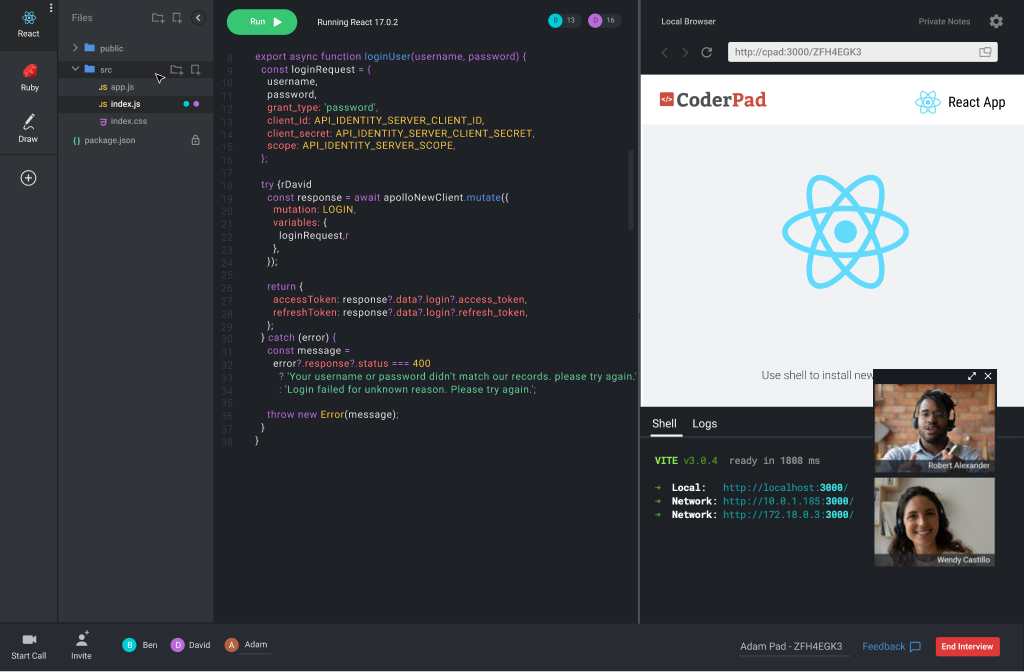 Assess candidates quickly and accurately
CoderPad's collaborative coding environment allows you to quickly evaluate candidates and understand their thought processes. Easily tailor each interview assessment to fit your team's needs – so you can find the right person faster.
Increase team efficiency
Streamline and save time in the interview process. Reduce the hassle of technical interviewing by relying on one fast, reliable platform that's simple and intuitive to use.
Reduce bias in the hiring process
Conduct consistent, fair technical evaluations through a level playing field – not an over-reliance on resumes. CoderPad's stellar developer experience makes that possible by giving interviewees the space and comfort they need to do their best work.
More Product Highlights
Video & Audio Call
See and speak to a candidate live – without the need for a separate video conferencing tool
Customizable Environments
Create an interview assessment that is unique to your team's needs with custom question bank, files, and database use
Quick Set-up
With single sign-on and simple, intuitive design, you and your candidates can spend less time preparing and more time interviewing
Speed and Reliability
With 99.9% uptime and unparalleled speed, CoderPad's focus on the developer experience means less wasted time and frustration
Single Platform
Everything you need to assess technical candidates in one platform
Playback Mode
Once an interview has ended, interviewers can use Playback Mode to replay the entire interview – keystroke by keystroke
Join 3,800+ happy companies