Docs Index
Doc
Setting up a live interview in CoderPad
Last updated on
Once you're ready to set up a live interview in CoderPad, there are a few steps to take and key features to consider. Take a look at the guide below to create an effective interview – from start to finish.
1. Plan for Your Interview
To set the stage for your live coding interview, we often suggest discussing and aligning on the following with your team:
Core skills you want the candidate to demonstrate
Types of questions you want to ask in their live interview

We suggest tailoring exercises to core competencies of the role you're hiring for

Assessing your interview

Guidelines of using different languages
How you will help the candidate if they get stuck
Grading system
Having this knowledge as a team will make interviews easier to set up and more consistent from candidate to candidate so you can focus on their skills assessment.
Pro tip: If you have a favorite question to ask during a live interview, you can save it ahead of time to your Question Bank – and then it can be used in any live interviews moving forward. If you need some inspiration, you can also check out Example Questions within your Question Bank.
2. Set Up Your Interview
Once you've planned your interview, you're ready to set up and conduct a live interview. To get started:
Login to your account
Click on the "Create Pad" button
This will open up the pad environment where your interview will be conducted. In the pad – you'll find an array of features to help both the interviewer and candidate.
The pad IDE itself is similar to a real world environment, where you write code in the left-hand pane, and view execution output in the right-hand pane.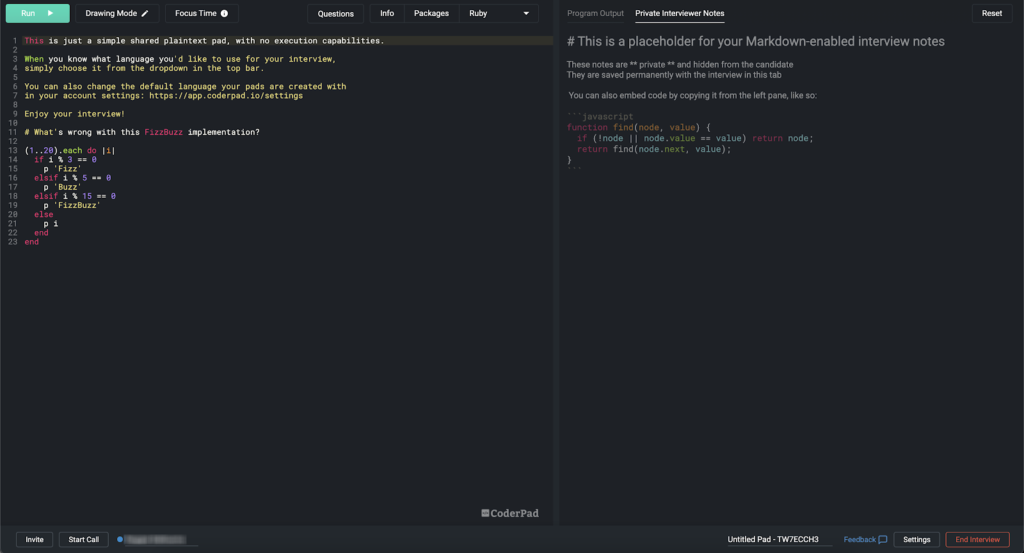 To execute the code, the run button is located in the top left hand corner, but you can also execute using a shortcut. (Mac: ⌘ + enter OR ⌘ + S, Windows: CTRL + enter OR CTRL + S )

3. Start Your Interview
To get started, simply ensure you and your candidate are accessing the same pad link.
To provide your candidate with the pad link, you have a few options:
Copy the browser link from the pad you've created and include this in your candidate communications (e.g., Google Calendar interview meeting invite)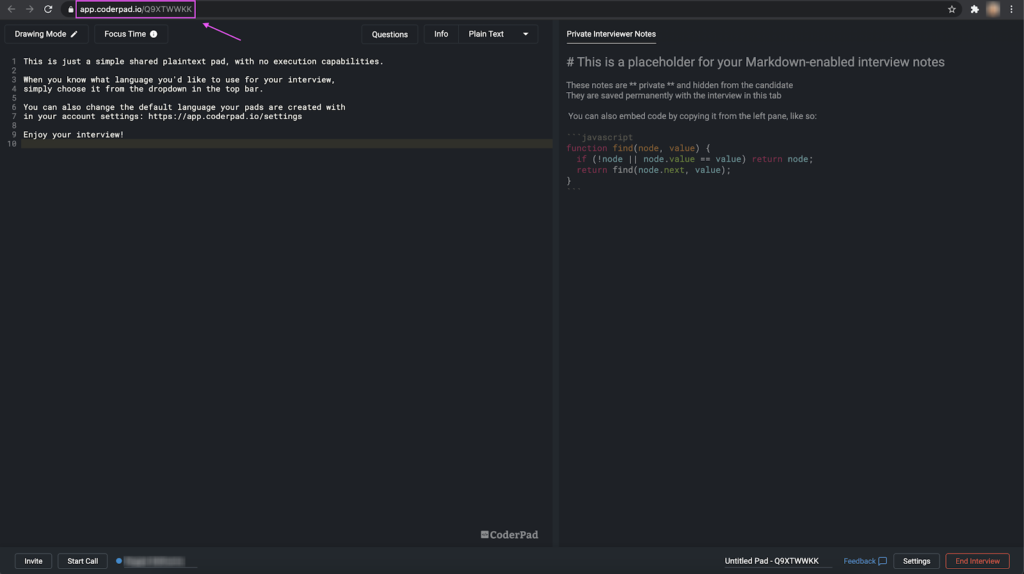 From within the pad, click on the invite button located in the bottom left hand corner of the pad.
This will open a pop-up with a few different options: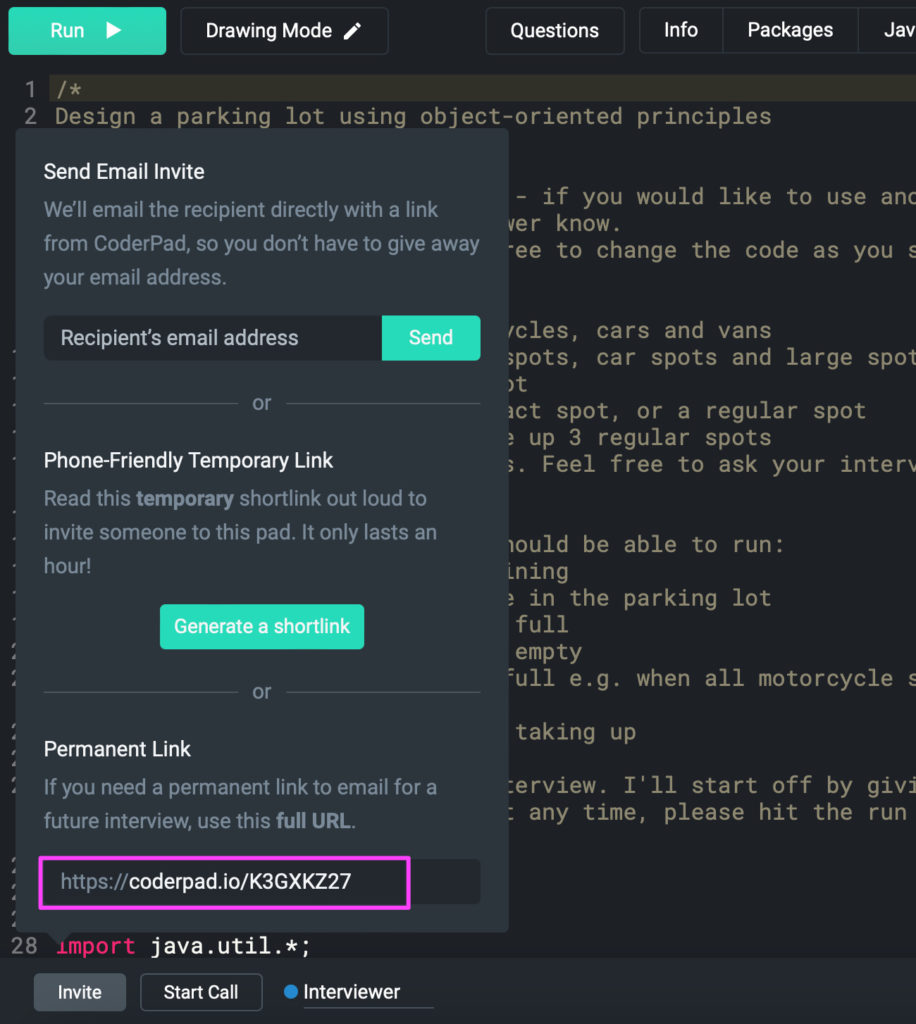 Copy the permanent link (which is the same as your browser URL)
Generate and read over the phone the temporary short link
Enter the candidate's email to send the pad via a CoderPad email invite
Pro tip: As the interviewer, you must be logged into your CoderPad account to be able to end the interview. If you do not end your interview, you will not be able to view Playback later.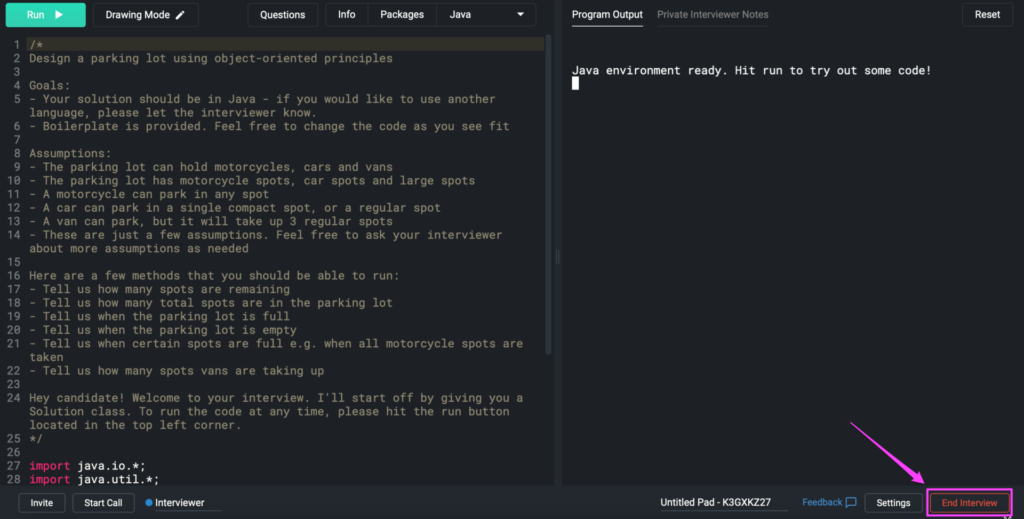 4. Start a Call
As with any interview, you will want to speak live with your candidate. To help you with this, and minimize the number of links or services used, CoderPad gives you a built-in option to video or audio call your candidate.
To start a call, follow these steps:
In the bottom left corner of a pad, click the "Start Call" button.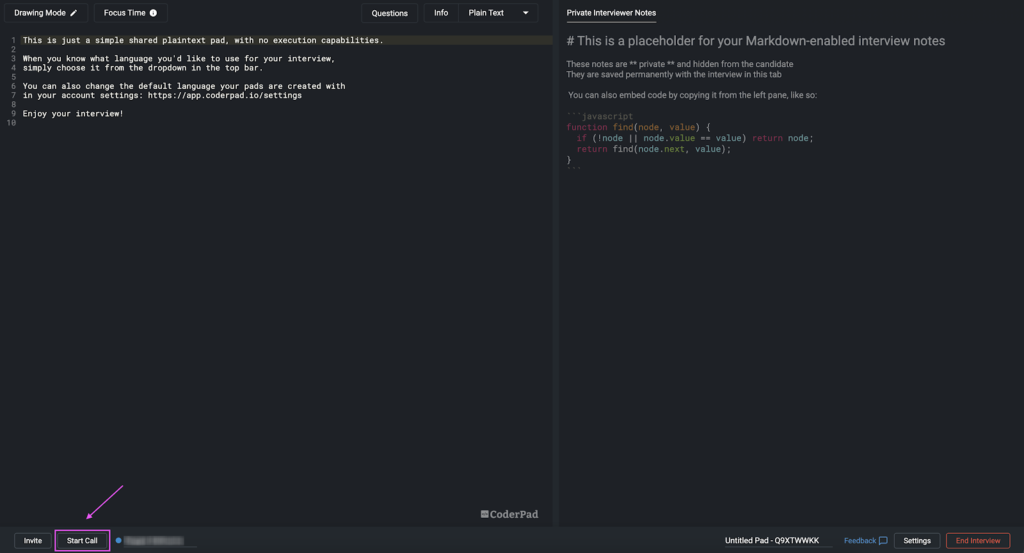 Note: If this is your first time ever using the audio/video feature in CoderPad, you will be asked to accept browser permissions..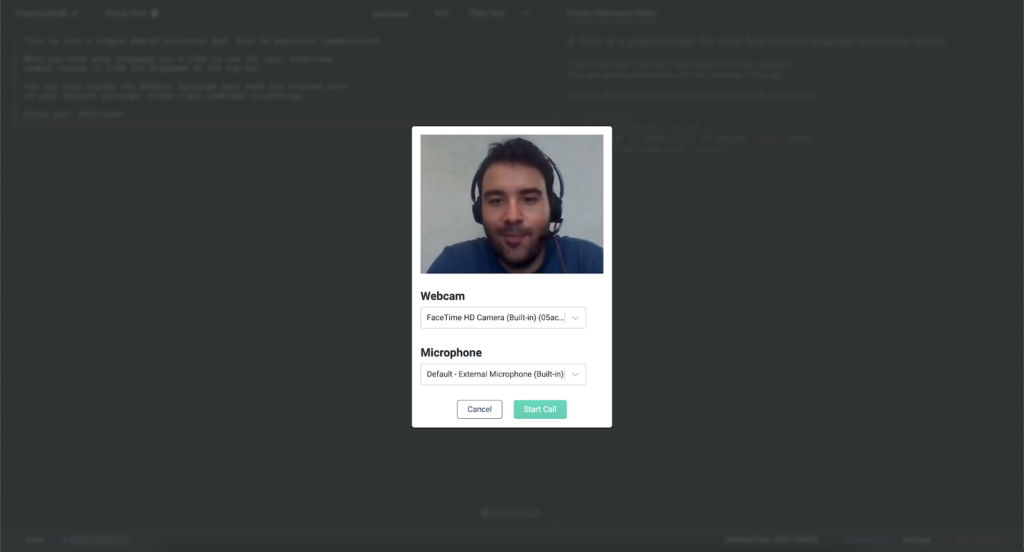 You, and the candidate have the option to accept or decline on both the video and audio permissions. If you only want to audio call, then simply decline the permissions on the video.
All video/audio calls are hosted through Twilio. If you have problems at any time, we recommend troubleshooting the following things:
Your browser permissions for audio/video on the pad itself. Sometimes you may have declined the permissions, or your browser has automatically set these for you.
Network issues. Check on your network status by going to networktest.twilio.com.
5. Prepare for the Debrief
Take Private Interviewer Notes
While interviewing, CoderPad gives you the ability to type out private notes during your interview. The candidate does not have access to see these notes. All notes can be saved in markdown.
To access the interviewer notes, simply click on the "Interviewer Notes" tab located in the right pane of the IDE (it is next to "Program Output"). During the interview, you can switch between these tabs at any point.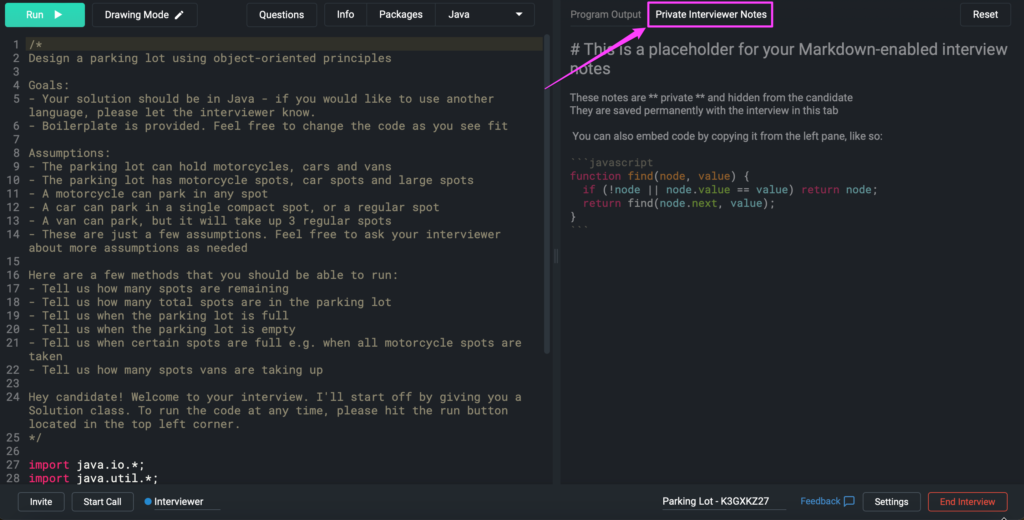 Review Playback
After the interview, CoderPad tracks every single keystroke of every participant's solution within a pad. Once the interview has ended, interviewers will be able to replay the entire interview keystroke by keystroke. This is useful to review during a debrief to easily recall how a candidate reached their solution.