Getting Started: Interviewers
This document is for technical interviewers who want detailed instructions about how to run interviews on CoderPad. If you are joining an interview as a candidate, please check out our getting started guide for candidates. If you are in a free trial of CoderPad, check out how to maximize your trial.
CoderPad is a technical interview platform to help accurately assess candidates throughout the hiring process. It works like an IDE to help developers, data scientists and other technical candidates easily share their skills – and ensure you understand how they work.
Use this guide to help you begin interviewing quickly in CoderPad – and start finding better candidates, faster.
1) Log in to your CoderPad Account
First things first – you must login to CoderPad to begin.
If your company has an existing CoderPad account, check with your administrator to request an invite and/or find out if you should use SSO.
If your company does not have an existing CoderPad account, register here with your company email and a password.

If you're interested in purchasing a paid plan, visit our Pricing page and click 'Buy Now'.
2) Create a Pad
Once you're logged in, it's helpful to get familiar with the pad environment. A "pad" is a session where the candidate and interviewer(s) can write and run code. You should make a new pad for each interview.
To create a pad:
Click the 'Create Pad' button in the main dashboard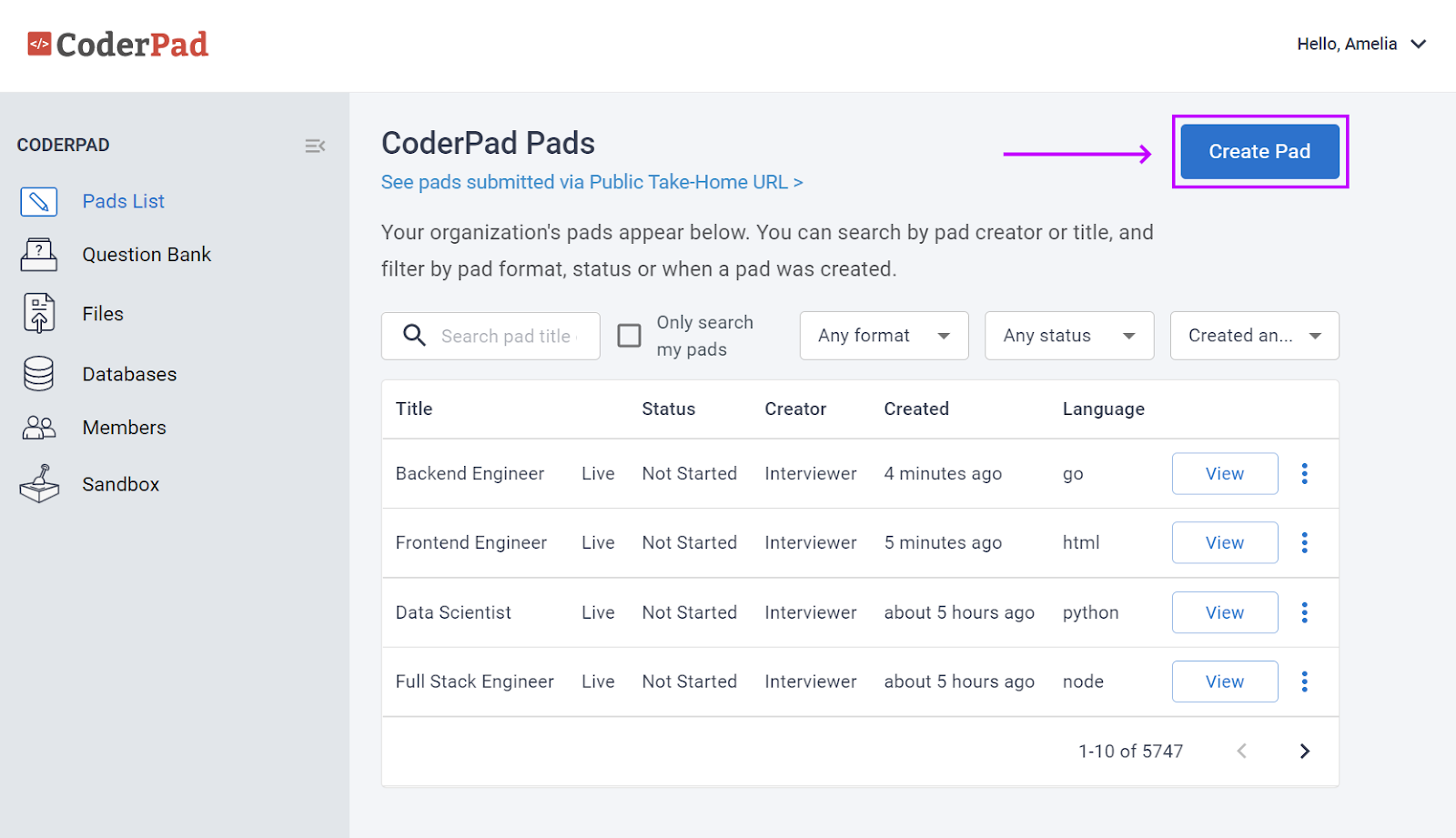 Pro tip: If you are new to CoderPad, we recommend you start by playing around with a pad in our Sandbox. This will let you get comfortable with the UI and customize your settings – without using up any of your interview quota.
Also, check out the 30+ languages, frameworks, and libraries CoderPad supports.
3) Invite your Candidate
Now that you've created a pad, it's time to invite your candidate.
Your candidate may have already been sent the interview link ahead of time. If so, you'll see their name appear in the bottom of the pad next to your name once they have joined. If they haven't been sent a link, choose a way to invite your candidate once you are in the pad.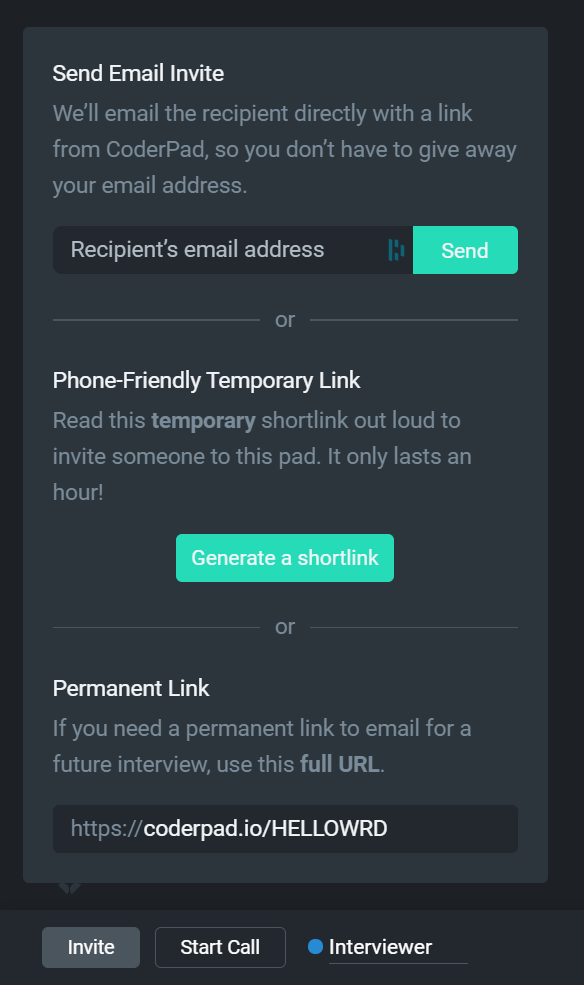 Copy and share the browser URL, or use this menu on the lower left hand side of the pad to invite your candidate.
Pro tip: If CoderPad is integrated with your ATS, your team will have sent invitations with links to your candidates directly ahead of time and you should join the pad link that was sent to you in advance.
4) Add a Question to your Pad
Once your candidate has joined your pad, have some time for intros and then add a technical interview question to your pad.
To access questions in your pad:
Click 'Questions' on the upper middle of your pad.

This is where you view and add interview questions to your pad. You can:
View questions you or your colleagues have already created and add them directly to your pad.

Note: To learn more about creating interview questions, check out our Docs on CoderPad's Question Bank

View and use CoderPad's pre-built Example Questions.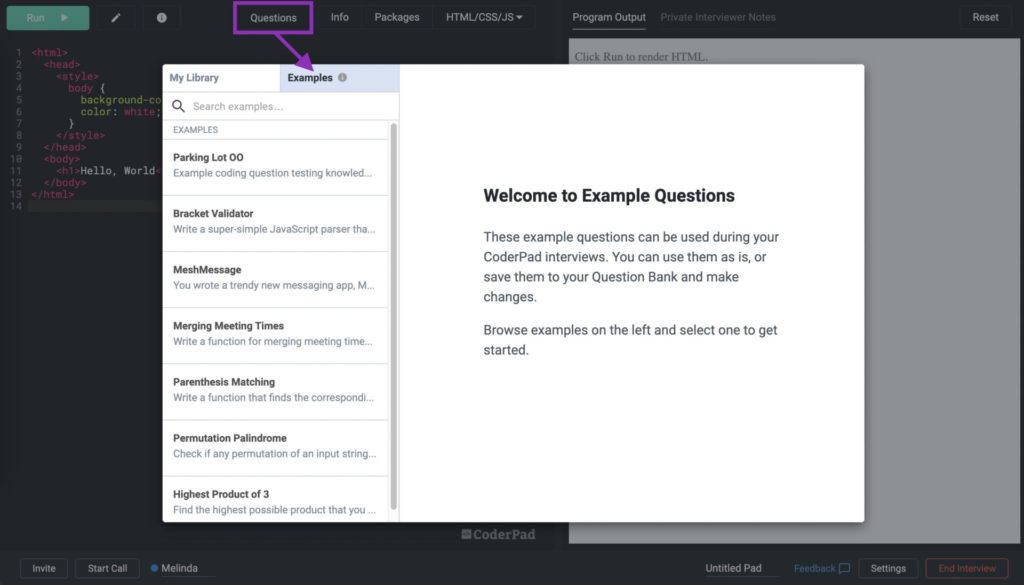 5) Conduct a Live Interview
You've put all the pieces together – and you're ready to conduct a live interview with a candidate.
Code with your Candidate
Once you and your candidate are in the pad together, it's time to start your interview and code collaboratively!
The left pane is the code editor, and the right pane contains the terminal-style output plus the REPL for languages that support it.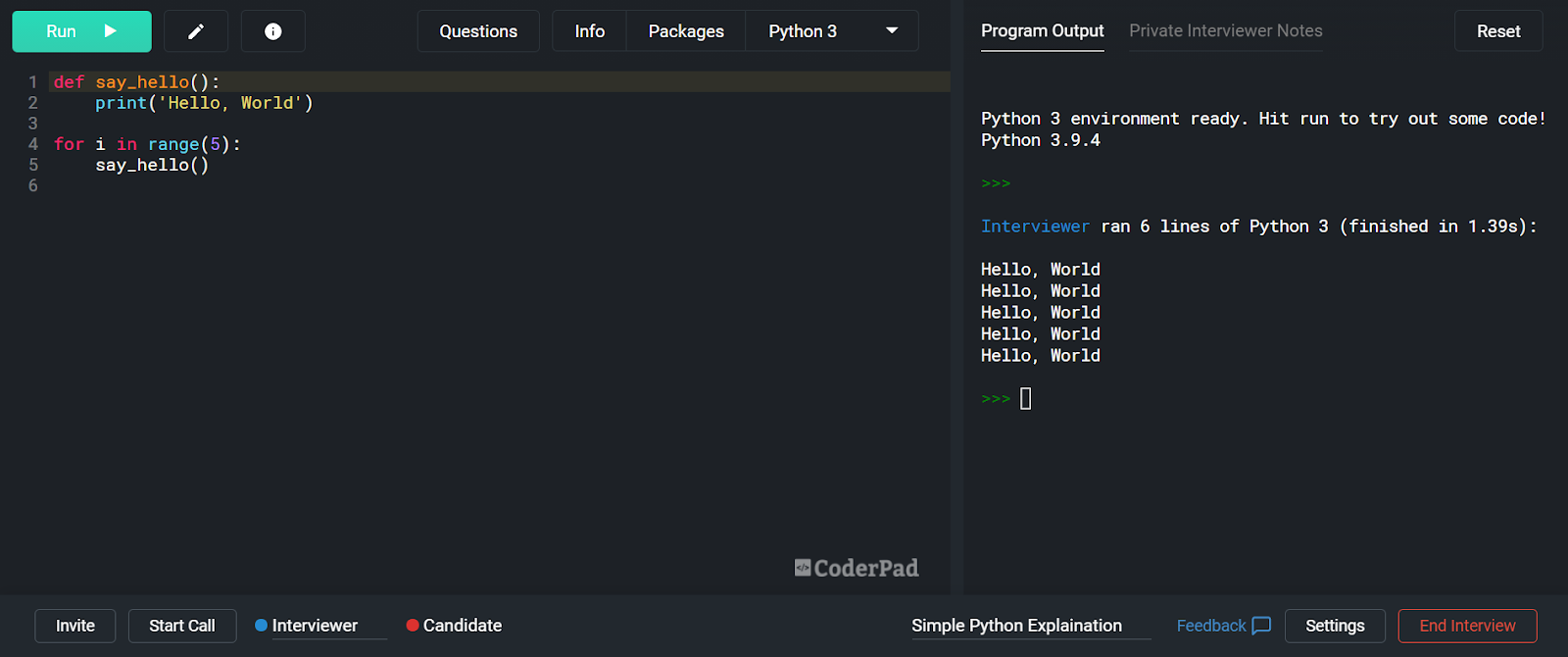 End the Interview
To end your live interview, click the 'End Interview' button on the lower right hand corner. This puts the pad into Playback Mode.
This button is only accessible to interviewers and will prevent any future pad access by candidates.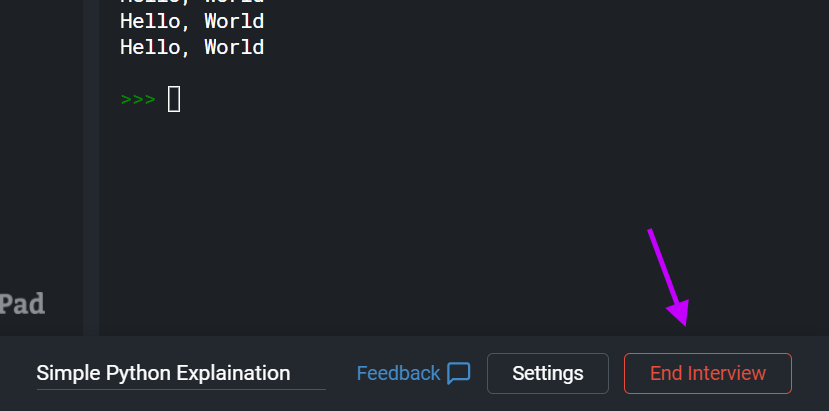 We hope this guide was helpful as you get started with CoderPad. If you're interested in learning more, check out our complete Docs.